For Aleem Dar the first priority is Pakistan, so when he was named for the first Twenty20 in the cricket-reviving series between Pakistan and World XI, the unassuming umpire was elated.
This was his first Twenty20 in Pakistan and that was a matter of great pride for the best umpire in the world.
Aleem could not become a cricketer but he has achieved more than a lot of players. As an umpire of great repute and standing, Dar won the best umpire's award for three years in a row from 2009 to 2011 and then further elevated his career by officiating in 332 internationals matches earlier this year.
Besides being a very good and efficient umpire, Dar's biggest quality is that he is a nice human being. Being a very down to earth and polite person has added to Dar's persona and from players to officials he is respected by all.
Here is a detailed interview of Aleem Dar for our readers in which he has spoken at length on his playing career as well as umpire.
Q: Aleem you had never officiated in a Twenty20 and this was your first chance. How was the feeling?
Aleem Dar: It's a great honour when you get a chance for Pakistan. It was a great atmosphere because international cricket was returning to Pakistan. I have always loved umpiring in Pakistan but sadly a tragic incident in 2009 forced us to play all our matches on neutral venues. But this will soon change as security is improving and the World XI tour will help us stage more matches in the near future.
 Q: You started your career as a player, how would you describe yourself as a player?
Dar: Everyone has a wish in his life that he becomes something, so I too had that wish to become a cricketer. I came to Lahore from Gujranwala to play cricket. I got admission in Islamia College Civil Lines and there I gave trials.
First Wasim Akram was selected as bowler and then I got selected in batting. It started a bit late but Wasim and my cricket career started at the same time. It started a bit late but Wasim and I had got admissions in Government College as well as FC College as well but we decided to play for Islamia College. I played for PNT Gymkhana. I think I started late so that's why I couldn't become a good cricketer. I had a few hundred in Grade II but didn't have a good first class record.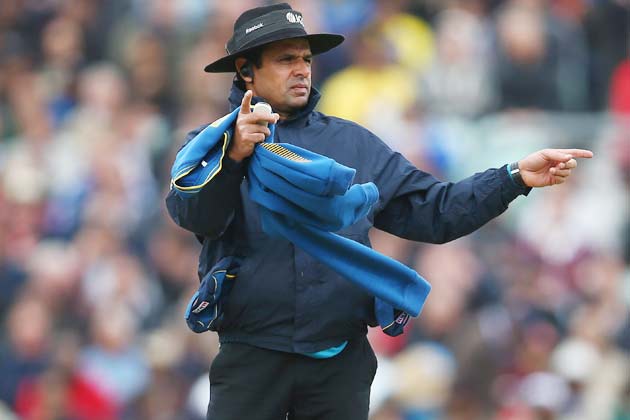 Q: Why did you start late?
Dar: My father was in Police so he had a few postings to different cities. When we came to Gujranwala then only I started playing. I worked very hard for Civil College and used to run from college to Fortress and then sprint to WAPDA house but then I thought that I can't go beyond this point. So I decided to take up umpiring.
Q: What were your goals when you took up umpiring?
Dar: I requested my parents to let me go to Lahore so that I can play cricket. I had promised to make a name for myself so I asked them to give me five years. But I realized the tough competition I was in at that time.
I was an off-spinner and at that time Saqlain Mushtaq was a good off-spinner so I thought that I will not be able to play for Pakistan. That prompted me to decide to enter the field of umpiring. I made my name and am respected as an umpire.
Q: At that time who were the other top cricketers who you played for and against?
Dar: At that time our college captain was Amir Sohail. Aqib Javed played under me and I played alongside Wasim Akram. Then I played in the Wills Cup where Ramiz Raja was the captain, and Amir Nazir and Abdul Razzaq was there. I also played against Mohammad Zahid and Mohammed Waseem.
Q: When did you decide that it's time to take up umpiring?
Dar: It was in late 1990s that when I realized that I cannot become a good cricketer so at that time Azhar Zaidi of PNT Gymkhana advised me to take up umpiring. At that time Majid Khan was in the PCB and so were Khalid Mahmood, Ramiz Raja and Iqbal Qasim.
At that time the PCB wanted to improve the umpiring standards so any cricketer willing to come it would be good. I was thinking on those lines at that time. At that time there were some senior umpires but I took up with willingness.
Within one year I understood that and became a good umpire. It was a good transition and I worked very hard to get myself settled. I improved and got settled within one year and achieved the target. A cricketer takes five to six years to become a big player but it took me one year to achieve that target.
Q: Did you face any problems initially?
Dar: I will give credit to myself that I got settled with one year. Then I will give credit to Khalid Mahmood who helped me. Majid Khan, Iqbal Qasim and Ramiz were there but I would also like to give credit to General Tauqir Zia who at that time said that he wanted three best umpires irrespective of their age and experience that had good reputation in domestic cricket. I was at the top and Nadeem Ghouri was there. Asad Rauf was third and General Zia sent those three names to the ICC and that was the turning point in my career.
Q: Was playing cricket at domestic level an added advantage in umpiring?
Dar: That's correct. It's an added advantage. But it's not always correct that only a cricketer can become a good umpire and in that I will give examples of Steve Bucknor and Simon Tauffel. They were regarded as top most umpires of the world. You need to have that willingness and keenness to be an umpire. There were some cricketers who couldn't become good umpires. I don't want to name them, so it's not necessary.
Q: Do you remember your first international match?
Dar: Yes, I remember that I got a call from Saqib Irfan from the PCB that I was appointed for a one-day international between Pakistan and Sri Lanka at my home town in Gujranwala (February 2000).  It was a double delight because Gujranwala is my home town.
It was a good start and Asad Rauf was with me, it was also his first game, so it was a good experience. My feelings were very good and within one year I became an international umpire.
Q: Being an umpire do you have a role model?
Dar: I will advise youngsters to always chose a role model, be it in any field. I chose West Indian Steve Bucknor as my role model. He was a very good and experienced umpire. He officiated in 128 Tests which is still a record but I am on second and my role model has been Bucknor.
Q: What are the key things which you require to be an umpire?
Dar: I think the basic needs in any field are to be hard working and that you must be honest. I would say that honesty is must, and if you have that then you will succeed. I would advise all the youngsters who want to be umpire that they must be honest.
Q: Being the number one umpire do you think an experienced umpire has more responsibility?
Dar: Look, there are just 12 Elite panel umpires in the world. To come in the Elite Umpire List is a great honour. To come in that panel was not that hard but to maintain that position was tougher.
I am in that panel since 2004 and I did my best to keep that status. I have been world number one umpire three times but I don't think that it's a one umpire job. It's a team work and you are supported by the other umpires and then TV umpire and the match referee. I have already given that suggestion to the ICC that it should be umpiring team of the year, all three umpires and the match referee.
Q: Do you train yourself to keep fit, if yes what are the methods?
Dar: Yes, I do. I have given suggestion to the PCB that whenever a season starts you must conduct fitness tests of all the umpires, like the ICC. They test our hearing and eye tests every six months.
If you are not physically fit, you are not mentally fit and you cannot work as an umpire. Nowadays DRS has come so when your decision is overturned then it's tough if you are not mentally fit.
Q: You have done a lot of umpiring in every country. When you umpire in a match involving India do you feel extra pressure?
Dar: Any match has its pressure. Local umpires feel more pressure and I think it was a great step by Imran Khan to introduce neutral umpires. Even if it's a Pakistan-Bangladesh match there is pressure on umpires.
I have done 111 Tests and most of them were in England and Australia. I have done matches involving India and Australia and they are very tense matches but once you do well you enjoy them more. You get highlighted and appreciated.
Q: You were number one umpire for three years so before that we had few good umpires, what does that mean to you?
Dar: I will repeat that I started this job with an aim to work hard. When I started there was no technology but nowadays there is more pressure but if you work hard, you are honest then you do it.
I was nominated before as well but it's not umpire of the year, it's the fact that I am included in the Elite Panel. You need to keep a higher percentage of correct decision, that it 94 percent and I have kept that, mine is above 95.
Q: How do you compare the umpiring now and when you joined?
Dar: I think technology has improved the standard of umpiring. The correct percentage has increased. Now you have 35 cameras or so on the ground so it's getting more modern and ultra-advance. I will again advice the newcomers to keep abreast with the changes in technology.
Q: What do you think are the top attributes of a good umpire?
Dar: I think a good umpire needs to be mentally strong. If you are not then you cannot survive. If you commit a mistake in the first over of a Test match then you cannot do umpiring five days for five days.
You need to be mentally strong to overcome that mistake. You don't need to cover the mistake. Take into account that you are a human being and you can make mistakes.
Forget the mistake and concentrate on the next ball. The only thing is not to handle the decisions but also the situation of the match, like control of the match, light, weather and other situation. A good umpire is one who takes the match under control.
Q: What do you take into the field?
Dar: We have a note book, a scissor, a stud key and screw to tighten the spikes. It's almost a workshop with us.
Q: Which were your most tense matches, World Cup final 2011?
Dar: Yes, it was tense. When they appointed me umpire for the final between India and Sri Lanka nobody raised any objection. It was tense to officiate the final in Mumbai.
There was pressure but 2011 World Cup was my best and none of my decision was overturned. It was my best tournament. The 2004 match in which South Africa chased 434 in Johannesburg was also tense. A few Ashes matches in 2005 went close.
Q: Any tension or apprehensions before the match?
Dar: Tension is always there but a good umpire is one who keeps relax and calm. I always try to keep myself calm and relaxed.
Q: Has the DRS helped or has it pressurized the umpires?
Dar: It has both helped as well as added pressure. There are so many cameras that everything comes to the fore. There are so many gadgets like snicko, ball tracking, ultra edge and bails light called zinger so it gets better. It's helpful and has made umpires more focused. They want to do better and better with this new challenge.
Q: How do you feel when a decision is overturned, do you feel embarrassed or it's a learning process?
Dar: I think you must avoid a very bad decision. There are three types of decisions wrong, bad and very bad decision so you need to avoid a very bad decision like a ball is pitched outside leg and you give lbw, like the ball is far from the bat and you give caught behind.
A good umpire needs to control on the wrong decisions and handle every situation well. You need to control yourself; even if you make a mistake then you must not lose control. If you don't care, the match referee notes that every time. ICC also considers that and there should be no issues with players.
Q: Any mistake you committed which forced you to apologize?
Dar: Some umpires do say "sorry" at the end of the game but I say "hard luck", because at times when you give a batsman not out or give out in favour of the bowler he would never say thank you, so I don't think we need to say sorry. At times when your decision deprives a batsman of a hundred or a bowler five-wicket haul, then I say sorry.
Q: What went wrong in the final of the 2007 World Cup when teams were forced to play in near-dark situation?
Dar: That was embarrassing for all the umpiring control team. Asad Rauf and I were discussing the situation a day before that once 20 overs are completed the match is over. We committed the mistake that after 20 overs there came a message from outside that if you don't complete these three overs you have to come the next day.
We were confused at that, it was bad light and we should not have continued. Later Asad said that how we committed that mistake despite discussing it a day before. When you are doing a match pressure builds up. It was embarrassing for us for three months. You tend to commit mistake in giving decision but if you commit a mistake in playing conditions, it is remembered by people for a long time. All umpires should be well versed in rules and do not commit a mistake.
Q: Do you enjoy a good feat when you are umpiring?
Dar: Yes I do. I was umpiring when Brian Lara hit that world record of 400, I was there when 434 was chased down by South Africa against Australia. I enjoyed Ricky Ponting and Hershelle Gibbs scored brilliant hundreds. I was umpiring when Muttiah Muralidharan beat Shane Warne's record of wickets and he was bowling from my end and bowled a doosra to get Paul Collingwood.
Michael Clarke's seven wickets in Mumbai against India so there are a lot of feats and I enjoy that. I enjoy  when I am standing as a leg umpire. I enjoyed Inzamam-ul-Haq, Lara and Sachin Tendulkar 's batting, Wasim Akram bowling so you enjoy all these things when you are standing as a leg umpire but when you are at the bowling end then your focus is only on umpiring.
Q: You spend lots of time away from home in the last 14-15 years, does it hurt the family or has the family complained?
Dar: I think to be a good umpire you need to have a good family. I would mention my wife who has always supported me. My life changed after the 2003 World Cup and I would mention her again because she gave a big sacrifice. Three days into the World Cup my seven month died and she didn't tell me for a month. That World Cup changed my life because I committed no mistakes and I was included in the Elite Panel. Every time I used to call her she didn't tell me, she smiled all the time and I didn't know my daughter had died. You need family's support and she always supported me, never tells me if a child or anyone else is ill in the family and that keeps me mentally strong. If you are not mentally strong you can't do umpiring.
Q: So which was your most memorable match?
Dar: The World Cup finals 2007 and 2011. The 2011 final stood out as there was no mistake. I have done the most finals of the ICC events. My 100th Test was in Cape Town and in the same match I completed my 332 matches which is the most memorable match.
Q: You have set up an academy in Lahore, tell us something about this.
Dar: I set up this academy for two types of children. I also have some hearing impaired kids and five of them are now in the Pakistan deaf team. I did trials for the kids from all over Lahore because I came here to play cricket.
When I became umpire of the year for a third time I requested the governor to give me land for academy. One of my players Ateeq has played for Under 19 and one has been selected in Under 13 so it's my wish that since I didn't become a cricketer so I want to produce some cricketers for Pakistan team.
Q: How many coaches do you have in this academy?
Dar: I have five coaches, more than the Pakistan team and there is one trainer Ashraf Ali, brother of Azhar Ali. For every category I have a coach.
Q: How do you feel when people ask for selfies and autographs?
Dar: I feel thankful to Allah when my fans ask for photo and take autographs. I do my best to give everyone a chance and at times there are security issues. But it's a moment of great pride when people take photos of cricketers and also come and ask for selfies.
Q: How do you want to be remembered?
Dar: Allah has given me respect in this profession; my reputation is before everyone because I have done my job as an honest person. I want to end my career on a high, there should be no scandal.
There are a very few sportsmen who have been conferred Pride of Performance and "Sitara-e-Imtiaz" so I am blessed and thankful that I have received such big civil awards. I want to be remembered as a good person who served Pakistan with honesty.
Comments