Asad Umar meets World Bank president in Bali
BALI: Finance Minister Asad Umar met President World Bank Dr. Jim Yong Kim on the sidelines of the World Bank/IMF Group Annual meetings in Bali city of Indonesia on Wednesday.
According to a statement issued by Ministry of Finance, Asad Umar shared with the World Bank leader, the vision of the new government and its priorities and the current level of Pak-World Bank cooperation.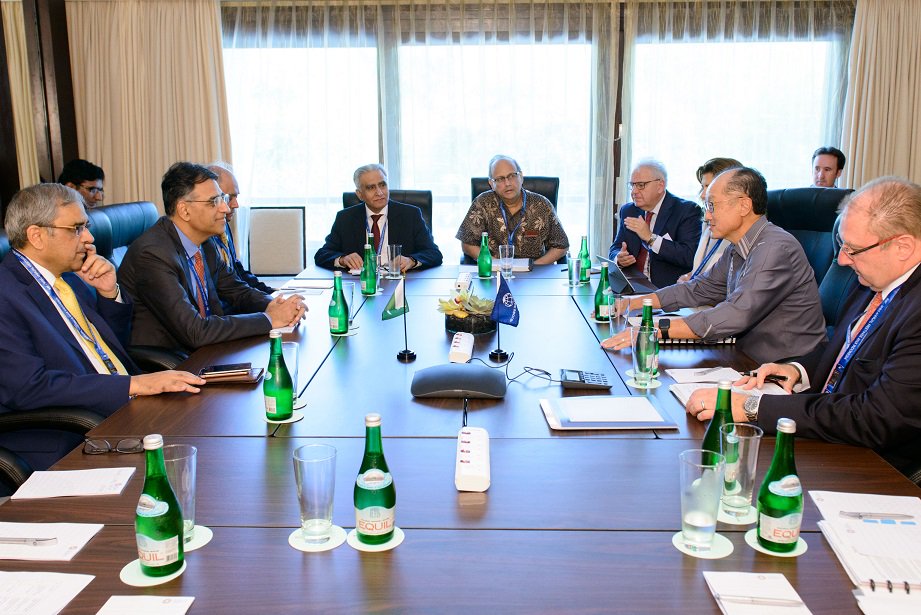 Earlier, the finance minister met his Indonesian counterpart Sri Mulyani Indrawati and discussed matters pertaining to expansion of bilateral cooperation between the two countries.
Delighted #Pakistan will be an early adopter of our Human Capital Project and is committing to #investinpeople. I thanked Minister Umar for his support. #WBGMeetings pic.twitter.com/ROcHOpB9i1

— Jim Yong Kim (@JimYongKim) October 10, 2018
Asad Umar emphasized upon expanding Pak-Indonesia trade relations and n this regard, called upon the Indonesian side to expedite the process of ratification of the additional tariff lines granted to Pakistan after comprehensive review of the PTA in 2017.
Congratulating the finance minister on assuming the office after recent elections in Pakistan, Sri Mulyani Indrawati reaffirmed Indonesia's desire to expand bilateral relations and assured her support to address the points raised by the Pakistan side.
The minister also had meetings with senior officials of Multilateral Investment Guarantee Agency (MIGA) and OECD.
Over 15,000 delegates from 189 countries are currently gathered at Bali, Indonesia for IMF/WB Group Annual meetings from October 10 to October 14, 2018. The finance minister is leading Pakistan's delegation, consisting of the Governor State Bank of Pakistan, Secretary, Economic Affairs Division and Special Secretary, Finance Division.\
The delegation's main aim is to  hold meetings with the top leadership of International Monetary Fund (IMF) for an "economic recovery program".
Government decides to approach IMF for 'economic recovery program'
Comments
comments