Mob attacks Sheikh Rasheed's residence in Rawalpindi
RAWALPINDI: An enraged mob attacked Awami Muslim League (AML) chief Sheikh Rasheed's residence 'Lal Haveli' in Rawalpindi on Friday, ARY News reported.
According to ARY News correspondent Babar Malik, a rally organized by Pakistan Muslim League-Nawaz (PML-N) was passing through the area when some participants of the rally tried to attack rival Sheikh Rasheed's residence before police stopped them.
Nalaik league Gullu butts outside lal haveli. pic.twitter.com/MDsffY49uD

— Sheikh Rashid Ahmad (@ShkhRasheed) August 4, 2017
The crowd was dispersed but eye witnesses claimed that the mob pelted stones and threatened servants of the 'Lal Haveli'.
Chief Minister Punjab Shahbaz Sharif has taken notice of the incident and a First Information Report (FIR) has been registered in the area police station.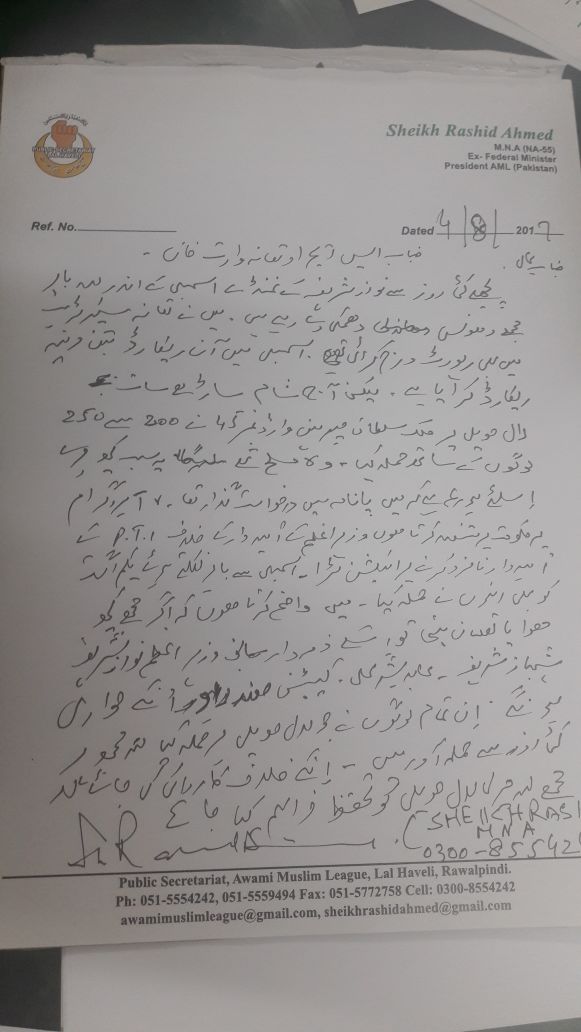 A Pakistan Tehreek-e-Insaf (PTI) ally, Sheikh Rasheed as seen as a top opponent and critic of PML-N government.
PTI leaders and party chief Imran Khan quickly condemned the attack blaming the ruling party for the attack to intimidate opposition leaders.
We strongly condemn attack on Sh Rasheed at Lal Haveli by PMLN hoodlums waving guns/pelting stones. We will not tolerate such intimidation https://t.co/rxcIAua3vM

— Imran Khan (@ImranKhanPTI) August 4, 2017
تحریکِ انصاف، ریاستی سرپرستی میں دہشت گردی میں شیخ رشید کے گھر پر حملے کی پُرزور مذمت کرتے ہیں۔ @ShkhRasheed

— Babar Awan (@BabarAwanPK) August 4, 2017
Addressing an emergency press conference after the attack, Sheikh Rasheed said that PML-N's leadership will be responsible if he gets killed.
READ MORE: https://arynews.tv/en/sheikh-rasheed-calls-for-na-session/
Comments
comments