'Army closely following sectarian colour given to recent spate of incidents in the country'
RAWALPINDI: Chief of Army Staff General Qamar Javed Bajwa on Wednesday assured the nation that those responsible for blasts in Parachinar will be brought to law and the compensation will be distributed among victims without any discrimination, ARY News reported.
Inter Services Public Relations (ISPR) announced that the army is closely following the sectarian and ethnic colour being deliberately given to recent spate of incidents in the country by "hostile intelligence agencies/sponsored anti-state elements and the COAS has interacted with clergy of all sects and has assured that justice will be served.
"Having failed to divide us through terrorism, our enemy is now trying to target and fragment us along sectarian/ethnic lines which merit a unified national response," reads the statement.
The statement adds that the "malicious campaign" which is also unwittingly being spread on social media is highly regrettable and the nation should be cognizant of it.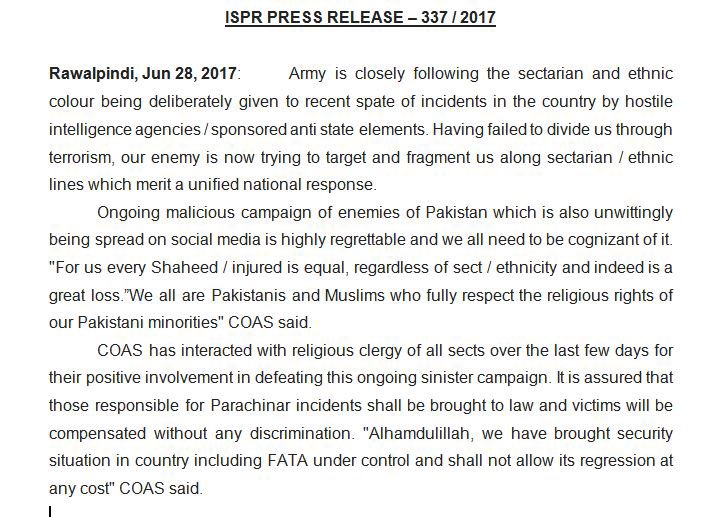 "For us, every shaheed/injured is equal, regardless of sect/ethnicity and indeed it is a great loss. We are all Pakistanis and Muslims who respect the religious rights of our Pakistani minorities," the statement quotes COAS as saying.
The army chief maintained that the country's valiant forces have brought security situation in country, including FATA, under control and shall not allow its regression at any cost.
Comments
comments