Your favourite Aamir Khan movies were copied from Hollywood
Bollywood superstar Amir Khan is often referred to as 'Mr Perfect' but few know that even his super-hit movies were copied from Hollywood and that too without giving the original creators some credit.
Here we list five movies of India's so-called superstar Aamir Khan which were copied from Hollywood and one or all of these could be your favourite!
---
1. Dil Hai Ki Manta Nahin (1991)
This Pooja Butt, Aamir Khan starrer was the 90s favourite movie and Indians thronged cinema houses to watch the 154 minutes romantic flick but sadly the movie was copied from Hollywood.
Director: Mahesh Bhatt
Stars: Aamir Khan, Pooja Bhatt, Anupam Kher, Sameer Chitre
It Happened One Night (1934)
Yes, the Hollywood classic 'It Happened One Night' was the original movie and 'Dil Hai Ki Manta Nahin' was a copy.
Frank Capra's movie too revolved around the story of a spoiled heiress running away from her family. The movie's hero helps her. The actor who played the male lead was none other than the great Clark Gable.
Director: Frank Capra
Stars: Clark Gable, Claudette Colbert, Walter Connolly

2. Jo Jeeta Wohi Sikandar (1992)
Sorry to break it to you but yes, the rich brat and poor chap's fight for a girl through a marathon cycle race was no new idea. it was copied.
Director: Mansoor Khan
Stars: Aamir Khan, Ayesha Jhulka, Deepak Tijori, Pooja Bedi
Breaking Away (1979)
Hollywood's 1979 release 'Breaking Away' was the movie. The movie too featured a small-town boy, cycling and the girl he loved.
Director: Peter Yates
Stars: Dennis Christopher, Dennis Quaid, Daniel Stern, Jackie Earle Haley

3. Akele Hum Akele Tum (1995)
Remember watching the movie on VCR? The super-hit flick too was not written in India. The 1995 movie was copied from a Meryl Streep starrer Hollywood movie.
Director: Mansoor Khan
Stars: Aamir Khan, Manisha Koirala, Master Adil, Deven Verma
Kramer vs. Kramer (1979)
The Dustin Hoffman, Meryl Streep starrer movie was the unlucky flick which got copied in Bollywood with the so-called Mr Perfect agreeing to sign the film.
The movie's story was similar to what you saw in A.K.A.T, the film tells the story of a couple's divorce and its impact on everyone involved, including the couple's young son.
Director: Robert Benton
Stars: Dustin Hoffman, Meryl Streep, Jane Alexander, Justin Henry
4. Ghulam (1998)
The Rani Mukherji, Amir Khan starrer 'Ghulam' may have given you some life goals and have unleashed the rebel in you but sadly even this one was not an original.
Director: Vikram Bhatt
Stars: Aamir Khan, Rani Mukerji, Rajit Kapoor, Mita Vasisht
On the Waterfront (1954)
This was the original 'Ghulam', yes 'On the Waterfront' which shows an ex-prize fighter  turned longshoreman (Marlon Brando) struggling to stand up to his corrupt union bosses was the original movie, copied blatantly and shamelessly by Vikram Bhatt with Amir Khan not even batting an eyelid!
Director: Elia Kazan
Stars: Marlon Brando, Karl Malden, Lee J. Cobb, Rod Steiger
5. Ghajini (2008)
Remember Aamir Khan's buffed up look in Ghajini? The loss of memory and his path of vengeance against the criminal Ghajini? You might have been impressed with the not-so-photographic memory of Aamir Khan. In reality, the movie was copied from a Hollywood film 'Memento'.

Memento (2000)
In this Christopher Nolan movie, Guy Pierce also suffers from the same memory loss and tracks down a guy who murdered his wife, after raping her.
Director: Christopher Nolan
Stars: Guy Pearce, Carrie-Anne Moss, Joe Pantoliano, Mark Boone Junior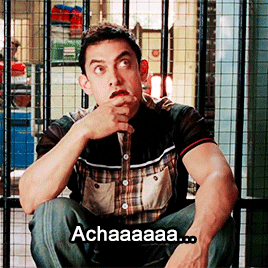 Also Watch
Comments
comments