'It was to save Maryam Nawaz Sharif'
ISLAMABAD: Commenting over the recently "settled" Dawn Leaks issue, Pakistan People's Party (PPP) leader Aitzaz Ahsan on Wednesday said that the main purpose of the rulers was to save Maryam Nawaz Sharif, the prime minister's daughter.
Speaking exclusively to ARY News, Aitzaz Ahsan claimed that in one of All Parties Conference, Maryam Nawaz's media cell was granted access to everything going on in the closed room and media was provided with information through the media cell run by PM Nawaz Sharif's daughter.
He added that Maryam Nawaz Sharif may not have directly contacted the reporter Cyril Almeida or Dawn's chief editor Zafar Abbas but someone may have contacted the paper on Maryam Nawaz's orders.
About the new notification released by interior ministry, he maintained that the new notification is identical to the earlier one which was rejected by army.
It is pertinent to note here that the government on April 29 issued a notification regarding probe on the Dawn leaks, however, the DG ISPR's tweet came to light within an hour, rejecting government notification on the matter.
Inter-Services Public Relations (ISPR) today withdrew the tweet of its director general posted on April 29 about 'Dawn leaks' that apparently expressed 'resentment' on the government notification on the news leak probe.
According to ISPR, the tweet posted by the DG ISPR Maj. Gen Asif Ghafoor was neither against any individual nor the government. Analysts believe that the move is unprecedented by the army.
On the other hand, Interior Ministry issued a media release saying Prime Minister has approved recommendations of Dawn Leaks Inquiry Committee and the issue stands settled.
The statement says that there is a need to develop a Code of Conduct for the Print Media especially when dealing with issues relating to security of Pakistan.
The Inquiry Committee recommended that the role of Daily Dawn, Zafar Abbas and Cyrill Almeida in the case may be referred to All Pakistan Newspapers Society (APNS) with a direction to take disciplinary action against them.
The statement said that action has already taken by the Federal Government against Senator Pervaiz Rashid is endorsed.
The Committee unanimously agreed that the then Principal Information Officer Rao Tehsin Ali had not displayed the required level of professionalism and has shown carelessness while dealing with the issue.
The Committee recommended that he may be proceeded against under the Efficiency and Discipline Rules.
The Committee also recommended removal of Mr. Tariq Fatemi from his portfolio of Special Assistant to the Prime Minister on Foreign Affairs.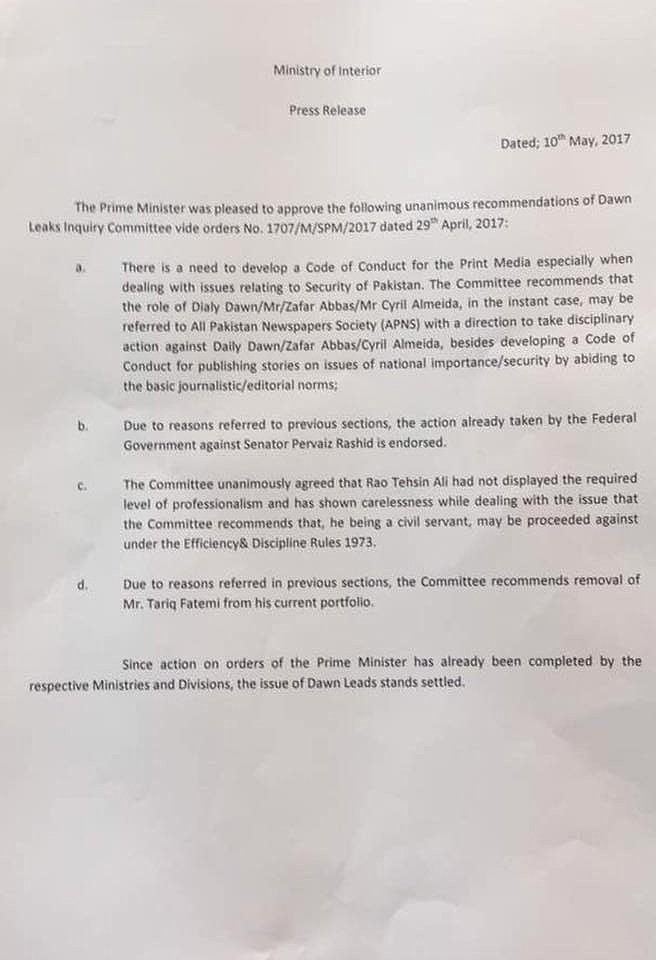 Comments
comments