LHC takes notice of Jamshed Dasti's alleged mistreatment in prison
LAHORE: Chief Justice Lahore High Court Mansoor Ali Shah on Thursday took notice the alleged mistreatment, torture and inhumane condition of Member of National Assembly Jamshed Dasti in prison.
LHC Registrar issued a notice and demanded to submit a report within one day. It stated that the matter is also in notice of the Chief Justice of Pakistan.
The notice states that Chief Justice LHC "has taken urgent notice of the media reports wherein Jamshed Dasti, MNA had alleged he is being tortured in prison and detained under inhuman(e) conditions."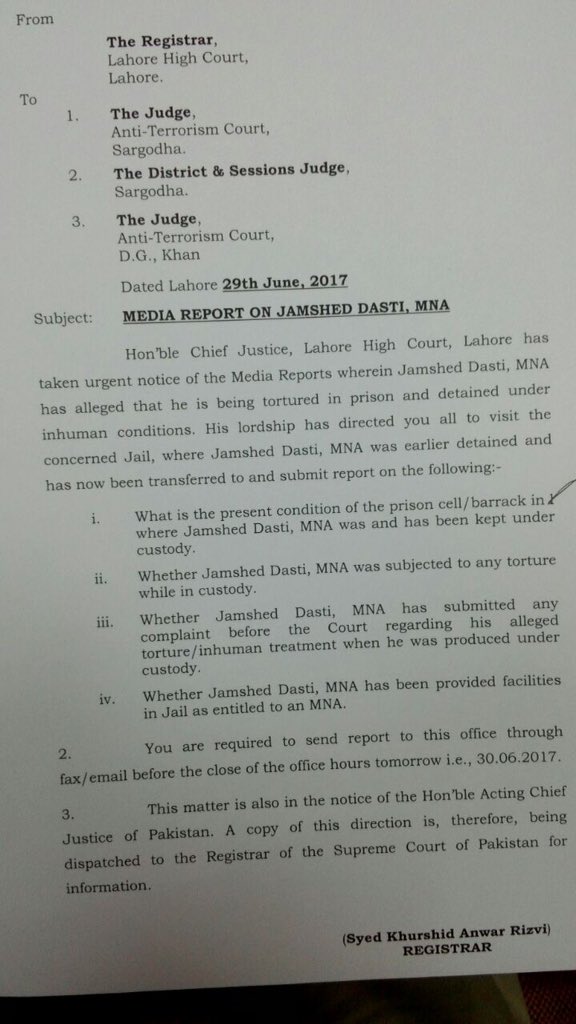 CJ LHC directed the judges of the Anti-Terrorism Court in Sargodha and D.G. Khan and the District and Sessions judge in Sargodha to visit the jail where Dasti was detained and has now been transferred.
CJ LHC directed them to submit a report on the present condition of the prison cell where Dasti was kept under custody, whether he was subjected to any torture in custody, and whether he has submitted any complaint regarding his alleged torture and inhumane treatment when he was produced in court.
Dasti appeared before an additional session judge in Sargodha on Thursday and complained that he was kept in a cell infested with mice, snakes and scorpions. Later a video emerged showing a weeping Dasti speaking from inside a police van, complaining that he was tortured and subject to inhumane treatment in prison.
Dasti also complained that he was starved and was not provided food for six days. He claimed that he has been booked in false cases and was being punished for his humble background. He appealed to Chief Justice of Pakistan to take notice of his plight.
Pakistan Awami Raj Party chief was arrested on June 08 for forcibly opening the sluice gate to release irrigation water into Dinga canal near Muzaffargarh. He is also facing 27 criminal cases including one related to allegedly torturing irrigation officials.
Comments
comments