'The whole nation knows what premiers have gone through in our 70-year history'
ISLAMABAD: Commenting on his ouster, former Prime Minister Nawaz Sharif on Saturday said that the whole nation knows what our prime ministers have gone through in last 70 years, ARY News reported.

Speaking to PML-N's parliamentary party meeting after being disqualified by the apex court's Friday decision, Nawaz Sharif said that his conscience is clear and his party should be proud of him as corruption charges against him were not proved in the court.
"My conscience is clear, if I had an iota of burden on my conscience, I would have resigned a lot earlier, I am grateful (to God) that I was not disqualified on corruption charges." said the former PM.
He maintained that he is not deterred as he has gone through more difficult times in the past.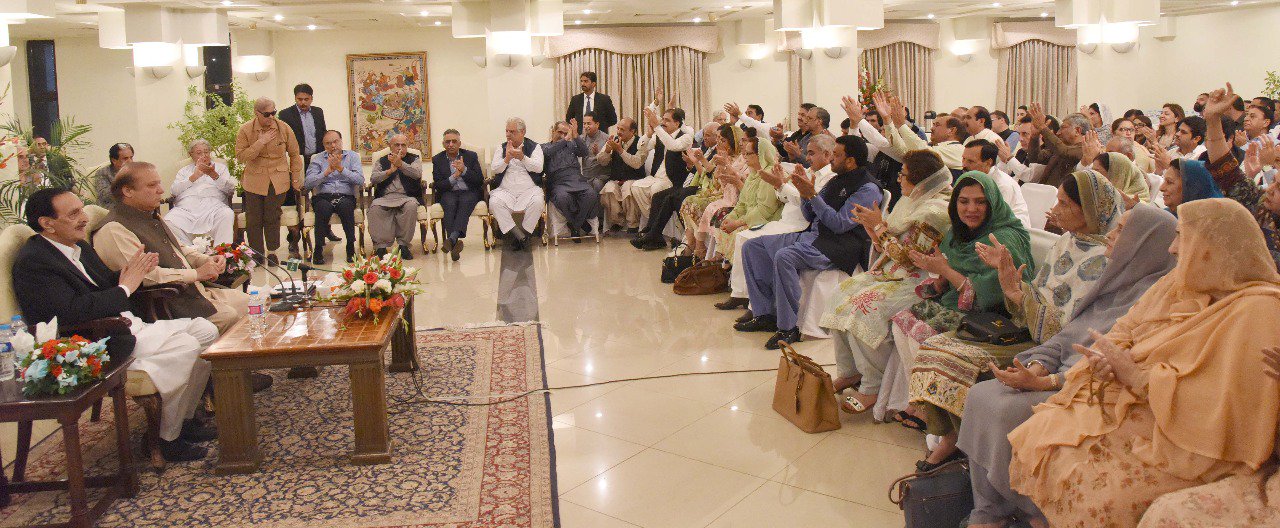 "My son opened this company and made me Chairman of Board of Directors and the designation comes with a salary and he (his son) kept it 10, 000 Dirhams and now the allegation is that why I did not draw a salary," said Nawaz Sharif, adding that those who "took" money from this country and looted its resources are roaming free.
The Supreme Court disqualified the PML-N leader over his failure to disclose his 'un-withdrawn receivables, constituting assets' in his nomination papers filed ahead of the 2013 general elections.
He also recalled that after the 1999 military coup against his government, he was not only disqualified by court but some elements threatened him that he might be awarded death sentence in the 'hijacking' case.
"Minutes ago, I was the PM and they made me a hijacker," lamented the former PM.
He said that he served the country diligently but the treatment meted out to him was beyond his understanding.
"They did this with a PM who took country's economy to new heights," said Nawaz Sharif.
Supreme Court on Friday toppled Prime Minister Nawaz Sharif, 67, who resigned after the court ruled he was unfit to hold office and ordered a criminal investigation into his family over corruption allegations.
Here are some facts about the three-time prime minister.
*Born into a Kashmiri family of industrialists in Lahore on Dec. 25, 1949, Sharif studied law at Punjab University and worked in the family business before going into politics in the Pakistan Muslim League (PML). Joining the Punjab cabinet as finance minister in 1981, he became its chief minister in 1985.
*Prime minister for two terms in the 1990s, Sharif was overthrown by the army chief he appointed, General Pervez Musharraf, in 1999. The bloodless ousting was Pakistan's fourth military coup since independence in 1947.
*After the coup, Sharif was convicted of graft, banned from politics, and given a life sentence for hijacking. Allowed to go into exile in Saudi Arabia in 2000, amid reports of a deal between his family and Musharraf's military government, he was given a presidential pardon the day his family left.
*Sharif returned from exile in 2007 and contested elections the next year as part of a political deal that ended Musharraf's military rule. He lost to the party of former Prime Minister Benazir Bhutto, who was assassinated ahead of the polls.
*He swept back to power in 2013 as his Pakistan Muslim League-Nawaz (PML-N) formed a coalition government. His party, which has a majority in parliament, is expected to name a new prime minister to hold office until elections due next year.
*Sharif has denied any wrongdoing and has dismissed the investigation as biased. With his ouster, no Pakistani prime minister has completed a full term in power since independence.
Comments
comments