PM welcomes Champions Trophy victors, terms them 'real heroes' of Pakistan
ISLAMABAD: Prime Minister Nawaz Sharif on Tuesday said that cricketers who make the nation proud are the real heroes and leaders of the country, ARY News reported.
Addressing a reception in honour of national cricket team that won champions trophy defeating India at Oval in Islamabad this evening.
"It makes me happy see you here on my invitation. Like the whole nation, I too wanted to see you all, you people are the real heroes and real leaders of the country," said the PM.
He urged all the world nations to come to Pakistan to encourage sports  but said that Pakistan will not beg for any foreign team to come to Pakistan to play cricket with us.
He said the government is making untiring efforts to complete power plants in the country at a fast track to cope with electricity shortage.
The Prime Minister said that with the prudent policies of the government and resolve of the nation, backbone of terrorists has been broken.
He said future is Pakistan's sports and every nation is welcomed to come to Pakistan to play games, but we will not beg any favor from them.
He said players are the real heroes and leaders of the country. He lauded the Pakistan cricket team for making the nation proud by winning the ICC Champions trophy.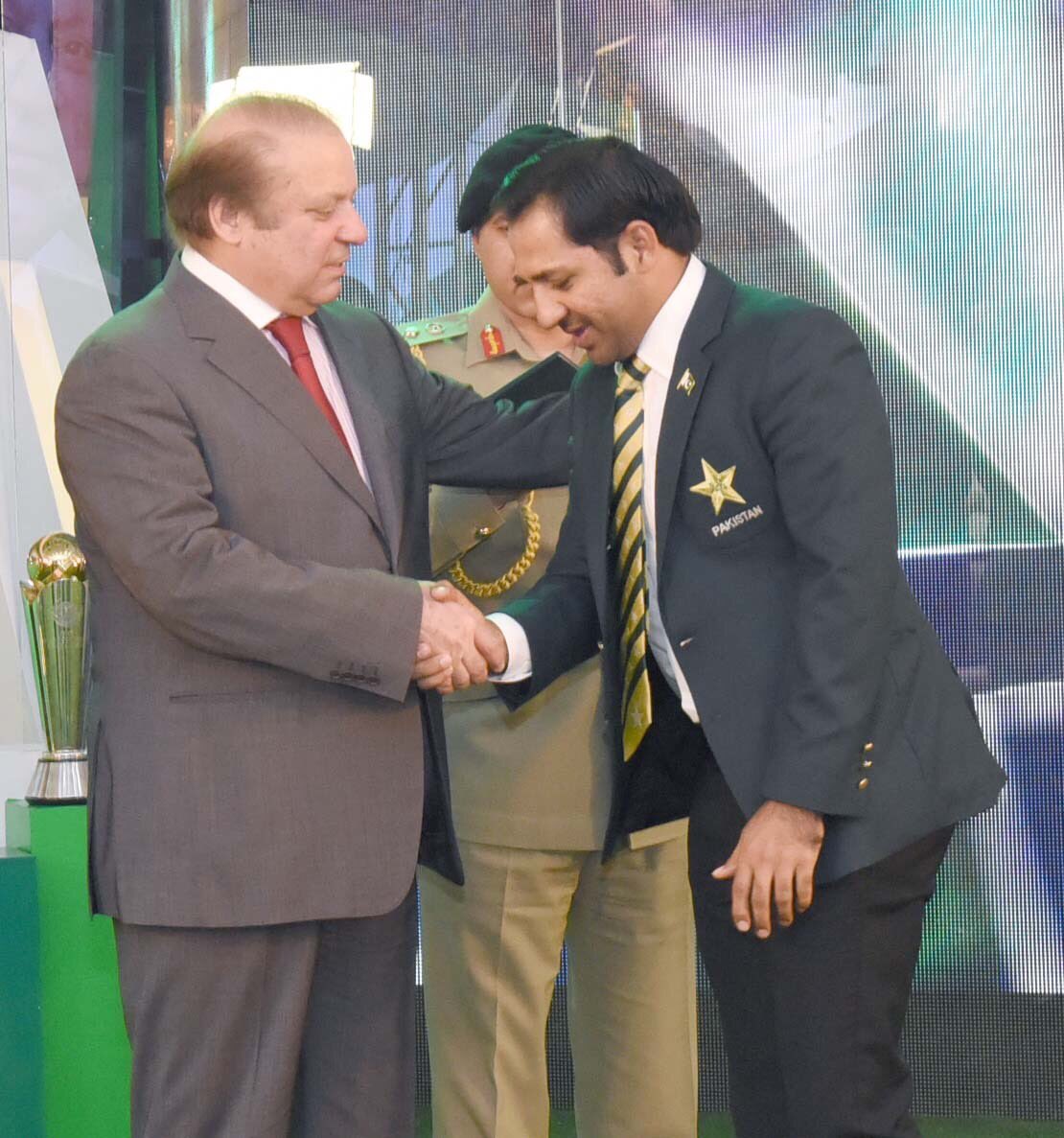 Speaking on the occasion, Chairman Pakistan Super League Najam Sethi thanked the Prime Minister for his unflinching support to revive Pakistani cricket.
He said Pakistan is a resilient nation, who have defeated terrorism and sports is the best way to showcase this ability.
Chairman PCB Shehryar Khan announced that Sarfraz will also lead the test team of Pakistan.
He said victory in ICC champion's trophy has united and rejoiced the entire nation.
At the end, the prime minister also gave away awards to the winning team members.
Comments
comments