RAWALPINDI:  A Special Corps Commanders conference on Tuesday expressed severe disapproval and took exception to what the forum termed Afghanistan's "unwarranted threats"against Pakistan after Saturday's Kabul blast, ARY News reported.    
"Instead of blaming Pakistan, Afghanistan should look inward and identify the real issues," said a statement released by ISPR after the meeting.
The forum which reviewed regional security environment in the backdrop of recent terrorist incidents in Afghanistan, also expressed solidarity with Afghan people and security forces on the loss of precious lives and vowed to continue its support and cooperation with Afghanistan in fight against terrorism and militancy.
Reaffirming continued support to regional peace and stability, the forum reiterated Pakistan Army's resolve to defend the motherland against all type of threats.
Afghan authorities were quick to blame Pakistan after the Saturday's Kabul truck bombing which killed over 150 people
Afghan President Ashraf Ghani lashed out at Pakistan today alleging that Pakistan is waging an "undeclared war of aggression" against Afghanistan.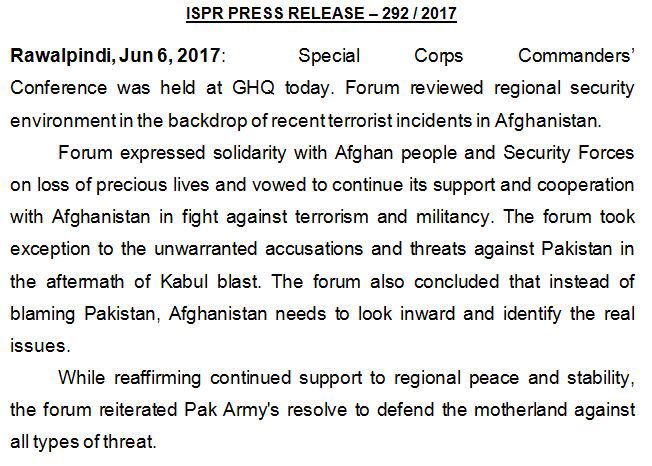 Comments