Quaid-e-Azam's daughter Dina Wadia passes away at 98
MUMBAI: Quaid-e-Azam Muhammad Ali Jinnah's only child Dina Wadia passed away in United States' New York City on Thursday, ARY News reported.
The only child of Pakistan's founder passed away at her home in New York a spokesperson of India's Wadia group told Indian media. Dina was the only child of Quaid-e-Azam Muhammad Ali Jinnah and his wife Rattanbai Petit.
She was born on August 15, 1919. Dina Wadia is survived by her son and Wadia group chairman Nusli N Wadia, daughter Diana N Wadia, and grandsons Ness and Jeh Wadia, the Wadia group spokesperson said in a statement.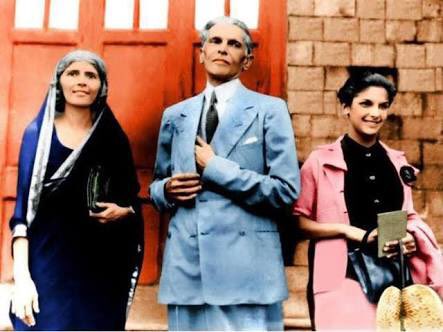 She only came to Pakistan twice in her lifetime. First on the death of Quaid and then in 2004, during a Pakistan and India Cricket Match, Dina arrived in the country created by her father and visited Quaid's tomb.
Wadia, her son Nusli Wadia and grandsons Ness Wadia and Jehangir Wadia also visited the mausoleum of her father to pay homage. In the visitors' book, Wadia wrote: "This has been very sad and wonderful for me. May his dream for Pakistan come true." Reports said that she asked for copies of three pictures she saw in the mausoleum's antiquities room. In one picture, she is standing with her father and aunt, Fatima Jinnah. The other is a painting of her mother, Maryam Jinnah. In the third, her father is dictating a letter, showing Mohammad Ali Jinnah's political persona.
Her husband Neville died in 1996 while her son Nusli Wadia is living in India.
Reacting to the demise of country's founder's daughter, many people took to Twitter and expressed their condolences and grief.
Saddened to learn of the death of our Quaid's daughter Dina Wadia. May her soul rest in peace.

— Imran Khan (@ImranKhanPTI) November 2, 2017
Dina Wadia d/o Jinnah has passed away. The end of an era. She was 98 years old. https://t.co/7g5vGVhCJH

— Yasser Latif Hamdani (@theRealYLH) November 2, 2017
Dina Wadia daughter of Jinnah, visited Karachi in 2004 at her father's mausoleum. pic.twitter.com/cQmryVAfNx

— mahr wains (@HiggsBosan) October 27, 2017
Comments
comments