Pakistan beat World XI in final clash to lift Independence Cup
LAHORE: Pakistan celebrated the return of international cricket with a thumping 33-run win to clinch the final Twenty20 match and the series against a World XI team at Lahore's Gaddafi stadium Friday.
The hosting of the short series is a major step towards convincing international teams to begin touring Pakistan again, with Sri Lanka already due to play a Twenty20 match in Lahore on October 29.
Foreign teams have refused to tour Pakistan since a militant attack on the Sri Lankan team bus in Lahore in March 2009.
Under Sarfraz Ahmed, Pakistan team outsmarted the World XI — with players from seven countries — in Friday's decider to match the important occasion by claiming the series 2-1.
Pakistan had won the first match by 20 runs on Tuesday before World XI levelled the series with a seven-wicket victory in the second on Wednesday.
Batting for World XI, only Thisara Perera, with a 13-ball 32 including three sixes and two fours, and David Miller, who hit a 29-ball 32, made significant contributions.
Others never got going in a shaky chase which saw three World XI batsmen run out. Pakistan pacer Hasan Ali finished as the best bowler with figures of 2-28.
Pakistan had piled up 183-4 after they were sent into bat by World Xi skipper Faf du Plessis.
Pakistan's innings was built around opener Ahmed Shehzad's 55-ball 89 and a 31-ball 48 by Babar Zaman. The two added 102 runs for the second wicket after Pakistan lost Fakhar Zaman for 27.
Shehzad fell 11 short of his second Twenty20 hundred as he attempted a single off a wide ball. He cracked eight boundaries and three sixes.
His and Pakistan's only hundred in a Twenty20 international had come against Bangladesh during the World Twenty20 tournament in 2014.
Shoaib Malik hit two sixes in his seven-ball 17 not out as Pakistan added 58 in the final five overs to reach 183.
Sri Lankan seamer Perera was the pick of World XI's bowlers with 2-37 in his four overs.
During the innings break the Pakistan Cricket Board arranged a lap of honour for retired greats Shahid Afridi and Misbah-ul-Haq. The two were given a standing ovation by a packed 25,000 crowd.
The series was arranged as part of Pakistan's efforts to bring back international cricket to the country, which has only hosted Zimbabwe for a limited-over series in 2015.
Pakistan hopes the successful staging of this series will help them host Sri Lanka for a Twenty20 international on October 29, at the end of their full series in the United Arab Emirates.
A month later they are also likely to host the West Indies for three Twenty20 matches.
LIVE UPDATES
WORLD XI: 150/7
OVER 20: Rumman Raees (0-0-0-0-4-1)
Darren Sammy: 24 (23)
Samuel Badree: 0 (2)
OVER 19: Hasan Ali (0-4-0-0-1-0)
Darren Sammy: 19 (17)
Samuel Badree: 0 (2)
World Xi need 40 on 8 balls. Dominence of Pakistan bowling continues #CricketKiHalalala#PAKvWXI pic.twitter.com/J1SGMnv9AC

— PCB Official (@TheRealPCB) September 15, 2017
OVER 18: Usman Shinwari (1-1-wk-0-1-0)
Darren Sammy: 14 (12)
Samuel Badree: 0 (1)
Morne Morkel: 1 (2)
OUT! 17.3 Usman Khan to Morne Morkel
Watch the match at https://t.co/ZWOxe07EbG#CricketKiHalalala #PAKvWXI pic.twitter.com/U3L8EHaxi7

— PCB Official (@TheRealPCB) September 15, 2017
OVER 17: Hasan Ali (6-1-0-1-1-wk)
Darren Sammy: 12 (9)
David Miller: 32 (29)
OUT! 16.6 Hasan Ali to Miller
Watch the match at https://t.co/ZWOxe07EbG#CricketKiHalalala #PAKvWXI pic.twitter.com/GWedI4rsau

— PCB Official (@TheRealPCB) September 15, 2017
SIX! 16.1 Hasan Ali to Sammy
Watch the match at https://t.co/ZWOxe07EbG#CricketKiHalalala #PAKvWXI pic.twitter.com/4hhVIUrT3V

— PCB Official (@TheRealPCB) September 15, 2017
OVER 16: Rumman Raees (0-1-1-1-2-4)
David Miller: 31 (26)
Darren Sammy: 4 (6)
Pakistan bowlers are dominating the show as wickets of World XI keep on tumbling #CricketKiHalalala#PAKvWXI pic.twitter.com/wPfzM9Evv4

— PCB Official (@TheRealPCB) September 15, 2017
OVER 15: Usman Shinwari (1-1-2-1-1-1)
David Miller: 25 (23)
Darren Sammy: 2 (3)
The Ride, The Crowd! The Champions! Thank you Lahore! #CricketKiHalalala#PAKvWXI pic.twitter.com/oi2GgeQOEr

— PCB Official (@TheRealPCB) September 15, 2017
OVER 14: Rumman Raees (1-0-1-1-4-wk)
David Miller: 21 (20)
Thisara Perera: 32 (13)
OUT! 13.6 Raees to Thisara Perera
Watch the match at https://t.co/ZWOxe07EbG#CricketKiHalalala #PAKvWXI pic.twitter.com/ymQbbE2haJ

— PCB Official (@TheRealPCB) September 15, 2017
OVER 13: Shadab Khan (6-6-6-4-1-1)
David Miller: 19 (18)
Thisara Perera: 27 (9)
SIX! 12.1 Shadab Khan to Thisara Perera
Watch the match at https://t.co/ZWOxe07EbG#CricketKiHalalala #PAKvWXI pic.twitter.com/Vl07t2sXZ3

— PCB Official (@TheRealPCB) September 15, 2017
SIX! 12.2 Shadab Khan to Thisara Perera
Watch the match at https://t.co/ZWOxe07EbG#CricketKiHalalala #PAKvWXI pic.twitter.com/Ah0m17XGZf

— PCB Official (@TheRealPCB) September 15, 2017
SIX! 12.3 Shadab Khan to Thisara Perera
Watch the match at https://t.co/ZWOxe07EbG#CricketKiHalalala #PAKvWXI pic.twitter.com/ShPvO46W2o

— PCB Official (@TheRealPCB) September 15, 2017
OVER 12: Hasan Ali (1-1-0-1-1-4)
David Miller: 18 (17)
Thisara Perera: 4 (4)
Thank you Lala @SAfridiOfficial #CricketKiHalalala#PAKvWXI pic.twitter.com/ZJP90P8WDB

— PCB Official (@TheRealPCB) September 15, 2017
OVER 11: Shadab Khan (0-1-1-1-1-1)
David Miller: 12 (13)
Thisara Perera: 2 (2)
OVER 10: Imad Wasim (1-0-6-0-2-wk-1)
David Miller: 9 (9)
Faf du Plessis: 13 (13)
OUT! 9.5 Imad Wasim to du Plessis
Watch the match at https://t.co/ZWOxe07EbG#CricketKiHalalala #PAKvWXI pic.twitter.com/DdMxlfKA1U

— PCB Official (@TheRealPCB) September 15, 2017
OVER 9: Shadab Khan (1-0-1-1-1-1)
Faf du Plessis: 12 (11)
David Miller: 2 (5)
Thank you Lahore for the grand honour and rousing reception for the two legends, Misbah ul Haq & Shahid Afridi #CricketKiHalalala

— PCB Official (@TheRealPCB) September 15, 2017
Thank you Lahore for the grand honour and rousing reception for the two legends, @captainmisbahpk & @SAfridiOfficial #CricketKiHalalala pic.twitter.com/Y1DSwpcn0R

— PCB Official (@TheRealPCB) September 15, 2017
Thank you Kaptan! @captainmisbahpk #CricketKiHalalala#PAKvWXI pic.twitter.com/dwPdjizxII

— PCB Official (@TheRealPCB) September 15, 2017
OVER 8: Imad Wasim (1-1-1-wk-0-0)
Faf du Plessis: 9 (8)
David Miller: 0 (2)
George Bailey: 3 (12)
OUT! 7.4 Imad Wasim to Bailey
Watch the match at https://t.co/ZWOxe07EbG#CricketKiHalalala #PAKvWXI pic.twitter.com/leoGtUf8CV

— PCB Official (@TheRealPCB) September 15, 2017
OVER 7: Muhammad Nawaz (0-1-1-4-1-0)
Faf du Plessis: 7 (6)
George Bailey: 2 (10)
OVER 6: Rumman Raees (0-0-0-0-0-0)
Faf du Plessis: 1 (2)
George Bailey: 1 (8)
OVER 5: Hasan Ali (4-wk-wk-1-0-1)
Faf du Plessis: 1 (2)
George Bailey: 1 (2)
Hashim Amla:  21 (12)
Ben Cutting: 5 (4)
OUT! 4.3 Hasan Ali to du Plessis (run out) Amla
Watch the match at https://t.co/ZWOxe07EbG#CricketKiHalalala #PAKvWXI pic.twitter.com/hNoBNXwTvr

— PCB Official (@TheRealPCB) September 15, 2017
OUT! 4.2 Hasan Ali to Cutting
Watch the match at https://t.co/ZWOxe07EbG#CricketKiHalalala #PAKvWXI pic.twitter.com/pYwNObg4zk

— PCB Official (@TheRealPCB) September 15, 2017
OVER 4: Usman Shinwari (2-4-0-4-4-0)
Hashim Amla:  21 (12)
Ben Cutting: 1 (2)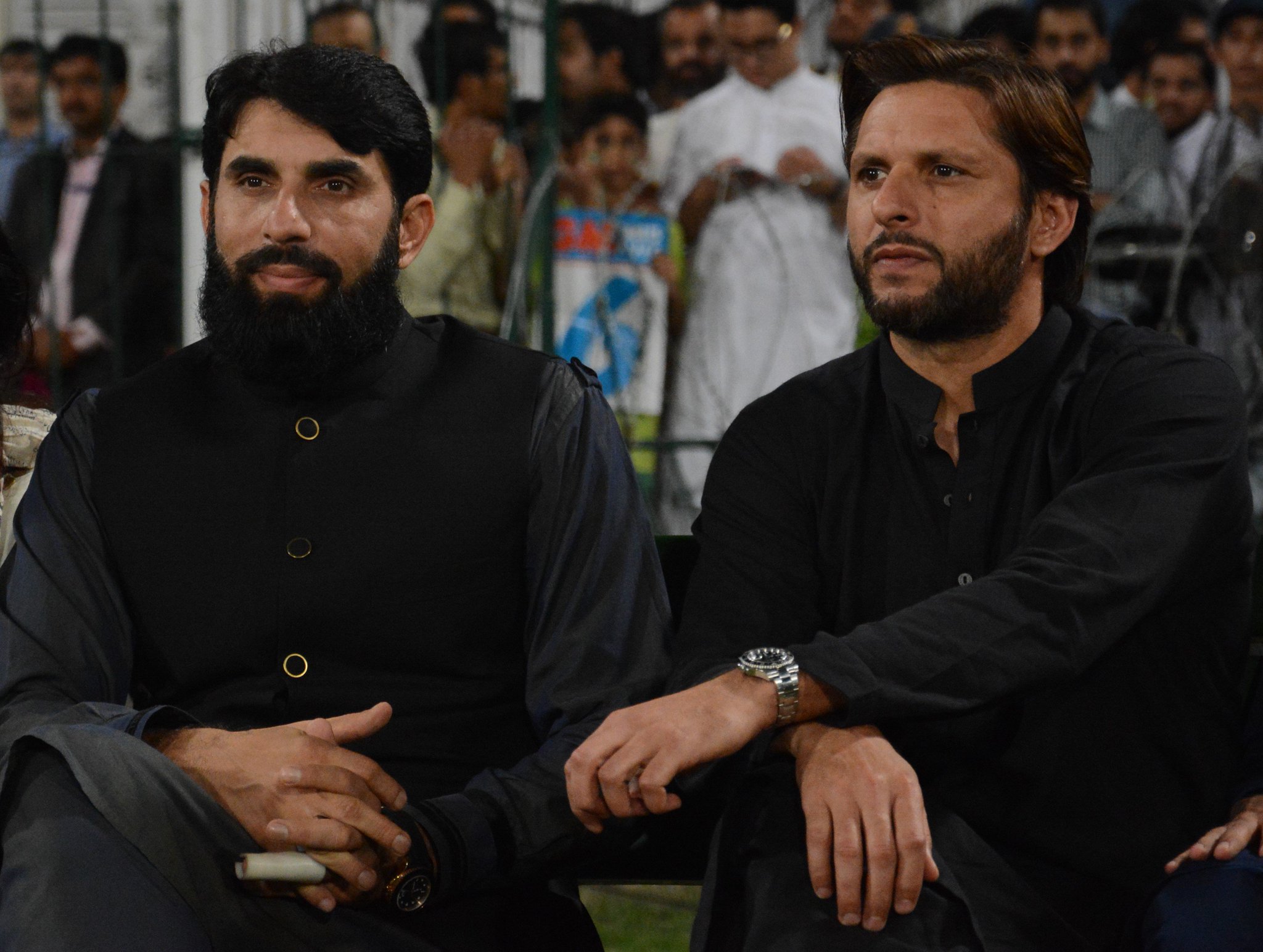 Thank you Afridi! @SAfridiOfficial #CricketKiHalalala#PAKvWXI pic.twitter.com/2bZUuqyNdz

— PCB Official (@TheRealPCB) September 15, 2017
Pakistan team group photo with former Captains @captainmisbahpk and @SAfridiOfficial #CricketKiHalalala#PAKvWXI pic.twitter.com/wEaJUzPb3d

— PCB Official (@TheRealPCB) September 15, 2017
OVER 3: Imad Wasim (1-4-1-0-1-0-1)
Hashim Amla:  7 (6)
Ben Cutting: 1 (2)
OVER 2- Usman Shinwari (0-0-1-0-1-w)
Hashim Amla  1 (2)
Ben Cutting 0 (0)
Tamim Iqbal  14 (10)
OUT! 1.6 Usman Khan to Tamim
Watch the match at https://t.co/ZWOxe07EbG#CricketKiHalalala #PAKvWXI pic.twitter.com/lUQKkDyITz

— PCB Official (@TheRealPCB) September 15, 2017
WORLD XI – 13/0
OVER 1- Imad Wasim (

0-

4-

4-

0-

4-

1

)
Tamim Iqbal 13 (6)
Hashim Amla 0 (0)
World XI starts its innings
Pakistan: 183/4
OVER 20: Thisara Perera (wk-6-1-0-wk-1)
Shoaib Malik: 17 (7)
Sarfraz Ahmed: 0 (0)
Imad Wasim: 0 (2) 
Babar Azam: 48 (31)
OUT! 19.5 Thisara Perera to Imad Wasim
Watch the match at https://t.co/ZWOxe07EbG#CricketKiHalalala #PAKvWXI pic.twitter.com/3Xmjc2xprN

— PCB Official (@TheRealPCB) September 15, 2017
Another briliant innings by in form @babarazam258, he missed his half century by only two runs. #CricketKiHalalala#PAKvWXI pic.twitter.com/AxPkfyc4SJ

— PCB Official (@TheRealPCB) September 15, 2017
OUT! 19.1 Thisara Perera to Babar Azam
Watch the match at https://t.co/ZWOxe07EbG#CricketKiHalalala #PAKvWXI pic.twitter.com/8PymCpOoe0

— PCB Official (@TheRealPCB) September 15, 2017
SIX! 19.2 Thisara Perera to Shoaib Malik
Watch the match at https://t.co/ZWOxe07EbG#CricketKiHalalala #PAKvWXI pic.twitter.com/4DZJaFWqlH

— PCB Official (@TheRealPCB) September 15, 2017
OVER 19: Morne Morkel (1-1-1-0-6-2)
Babar Azam: 48 (30)
Shoaib Malik: 9 (4)
SIX! 18.5 Morne Morkel to Shoaib Malik
Watch the match at https://t.co/ZWOxe07EbG#CricketKiHalalala #PAKvWXI pic.twitter.com/L3kYctETi5

— PCB Official (@TheRealPCB) September 15, 2017
OVER 18: Ben Cutting (1-6-6-6-1-wk-1)
Babar Azam: 46 (28)
Shoaib Malik: 0 (0)
Ahmed Shehzad: 89 (55)
OUT! 17.6 Cutting to Babar Azam (run out) Ahmed Shehzad
Watch the match at https://t.co/ZWOxe07EbG#CricketKiHalalala #PAKvWXI pic.twitter.com/kLei8shGse

— PCB Official (@TheRealPCB) September 15, 2017
SIX! 17.2 Cutting to Ahmed Shehzad
Watch the match at https://t.co/ZWOxe07EbG#CricketKiHalalala #PAKvWXI pic.twitter.com/cuA7vmtNug

— PCB Official (@TheRealPCB) September 15, 2017
SIX! 17.3 Cutting to Ahmed Shehzad
Watch the match at https://t.co/ZWOxe07EbG#CricketKiHalalala #PAKvWXI pic.twitter.com/QRUssvBXPj

— PCB Official (@TheRealPCB) September 15, 2017
SIX! 17.4 Cutting to Ahmed Shehzad
Watch the match at https://t.co/ZWOxe07EbG#CricketKiHalalala #PAKvWXI pic.twitter.com/YGtsn8ecnX

— PCB Official (@TheRealPCB) September 15, 2017
OVER 17: Morne Morkel (4-1-4-4-0-2)
Ahmed Shehzad: 70 (51)
Babar Azam: 44 (26)
OVER 16: Thisara Perera (4-1-1-2-0-1-1)
Ahmed Shehzad: 60 (47)
Babar Azam: 39 (24)
OVER 15: Imran Tahir (1-2-1-1-4-1)
Ahmed Shehzad: 57 (44)
Babar Azam: 33 (21)
OVER 14: Thisara Perera (1-1-1-1-1-1)
Ahmed Shehzad: 55 (42)
Babar Azam: 25 (17)
OVER 13: Darren Sammy (1-1-1-1-1-1)
Ahmed Shehzad: 52 (39)
Babar Azam: 22 (14)
OVER 12: Samuel Badree (1-2-1-4-1-1)
Ahmed Shehzad: 49 (36)
Babar Azam: 19 (11)
OVER 11: Darren Sammy (1-1-4-1-1-1)
Ahmed Shehzad: 45 (33)
Babar Azam: 13 (8)
Pakistan off to a solid start, what is a safe total on this Gaddafi pitch? #CricketKiHalalala#PAKvWXI pic.twitter.com/Bwaxde5rpD

— PCB Official (@TheRealPCB) September 15, 2017
OVER 10: Imran Tahir (0-2-4-1-2-1)
Ahmed Shehzad: 43 (31)
Babar Azam: 6 (4)
OVER 9: Darren Sammy (2-wk-1-1-1-2)
Ahmed Shehzad: 36 (27)
Babar Azam: 3 (2)
Fakhar Zaman: 27 (25)
OUT! 8.2 Sammy to Ahmed Shehzad (run out) Fakhar Zaman
Watch the match at https://t.co/ZWOxe07EbG#CricketKiHalalala #PAKvWXI pic.twitter.com/GadZDsU7zK

— PCB Official (@TheRealPCB) September 15, 2017
OVER 8: Imran Tahir (1-0-1-1-2-1)
Ahmed Shehzad: 32 (23)
Fakhar Zaman: 27 (25)
OVER 7: Darren Sammy (1-0-1-0-0-0)
Ahmed Shehzad: 28 (19)
Fakhar Zaman: 25 (23)
That flag 🇵🇰💚 pic.twitter.com/QwcQyIXaRW

— PCB Official (@TheRealPCB) September 15, 2017
OVER 6: Thisara Perera (4-0-1-6-1-1)
Ahmed Shehzad: 27 (15)
Fakhar Zaman: 24 (21)
SIX! 5.4 Thisara Perera to Fakhar Zaman
Watch the match at https://t.co/ZWOxe07EbG#CricketKiHalalala #PAKvWXI pic.twitter.com/IyecnoAN97

— PCB Official (@TheRealPCB) September 15, 2017
OVER 5: Ben Cutting (0-0-0-2-1-1)
Ahmed Shehzad: 21 (11)
Fakhar Zaman: 17 (19)
OVER 4: Morne Morkel (4-1-0-0-1-0)
Ahmed Shehzad: 20 (10)
Fakhar Zaman: 14 (14)
Cricket fans in Gaddafi Stadium #CricketKiHalalala#PAKvWXI pic.twitter.com/81PKIXm2NO

— PCB Official (@TheRealPCB) September 15, 2017
OVER 3: Samuel Badree (0-0-0-4-1-1)
Ahmed Shehzad: 15 (7)
Fakhar Zaman: 13 (11)
OVER 2: Morne Morkel (4-4-1-0-0-1)
Ahmed Shehzad: 14 (6)
Fakhar Zaman: 8 (6)
OVER 1: Samuel Badree (1-0-4-1-4-2)
Ahmed Shehzad: 5 (3)
Fakhar Zaman: 7 (3)
Comments
comments