'Meesha Shafi's message' thanking Ali Zafar after alleged harassment goes viral
A message allegedly sent by singer Meesha Shafi after the jamming session and concert during which period she claimed she was sexually harassed by fellow singer Ali Zafar has gone viral on social media.
The message, shared by Ali Zafar's lawyer Barrister Ambreen Qureshi shows Meesha Shafi, in a group created by organizers of the concert, not only said that she had "a great time jamming" for and performing during the concert but also thanked Ali Zafar.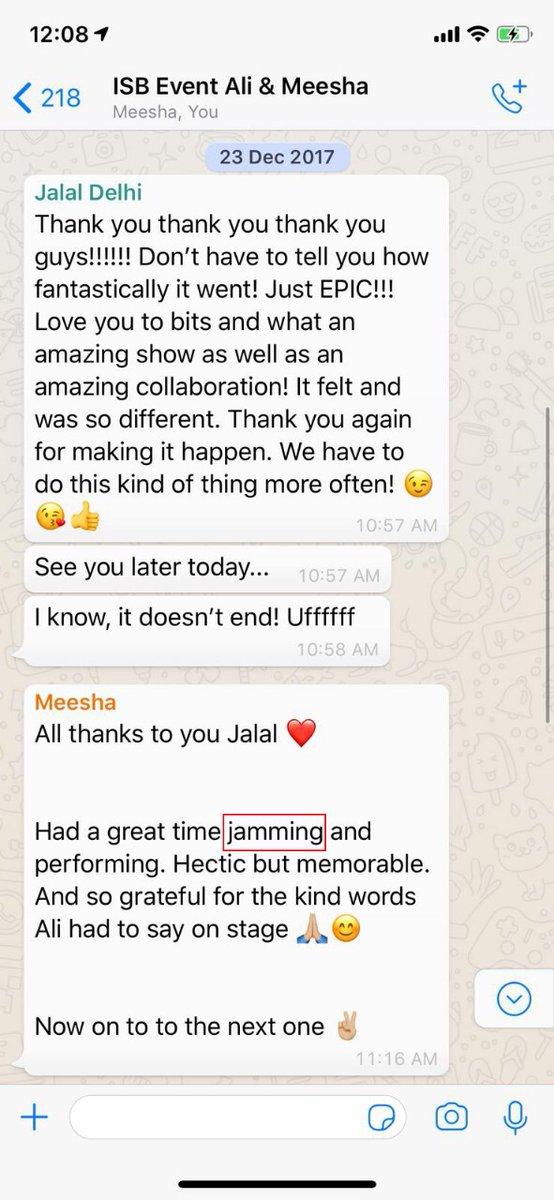 "Had a great time jamming and performing. Hectic but memorable, and so grateful for the kind words Ali (Zafar) had to say on stage," wrote Meesha Shafi according to a screenshot shared by Ali Zafar's counsel.
Four months after this December event, Meesha Shafi had claimed, on Twitter,  that she had been subjected to sexual harassment "of a physical nature" by Ali Zafar on multiple occasions including the jamming session before the said concert.
Here is the screenshot of Meesha Shafi's message to Ali Zafar that she denied on National TV. See for yourself.

Truth always prevails

#Alizafar vs #MeeshaShafi pic.twitter.com/rOXtwu88P5

— Barrister Ambreen Qureshi (@ambreenqureshi) May 2, 2019
Barrister Ambreen Qureshi also shared another message that the purpose of sharing this screenshot is that Meesha Shafi, in a recent interview, categorically denied saying "had a great time jamming" but as Ali Zafar had the chat saved, one can see the whole message.
Comments
comments