Nawaz Sharif ends GT Road rally, says nation has rejected his disqualification
LAHORE:  Former prime minister Nawaz Sharif on Saturday ended his four day long journey from Islamabad to Lahore by speaking to a huge rally in Punjab province's capital city, ARY News reported.

Flanked by a number of top party leaders, Nawaz Sharif urged the people to support him in his efforts to change the system of this country for good and in a way that the power of vote be respected.
"This system has a virus and we will have to change it, this constitution and system should be changed," said Nawaz Sharif.
He maintained that there is not a single country in the region where people's mandate is disrespected in the same way as in Pakistan where "three dictators ruled for 30 years while premiers were not allowed to complete their term".
اس سسٹم میں وائرس ہے،اس کوبدلنا ہوگا،میں ڈرتا نہیں،اوراب میں نہ گھربیٹھوں گا، ہمیں آئین اورنظام بدلنا ہوگا،نوازشریف

— Khawaja Saad Rafique (@KhSaad_Rafique) August 12, 2017
Nawaz Sharif said that on Independence Day, he will announce a comprehensive strategy for a revolution to restore voters' respect in the country.
Nawaz Sharif reached his Lahore home soon after the speech and was greeted by his family members.
Alhamdulilah!!!! reached home safely. pic.twitter.com/mKrSqLHzte

— Khawaja Saad Rafique (@KhSaad_Rafique) August 12, 2017
:LIVE UPDATES:
Nawaz Sharif's final speech at Data Darbar
"I fear because I see all the country protesting against my ousting. The huge crowd I just saw in Shahdara and now in Lahore is a sign of revolution. If this revolution does not take place poor will remain poor. Our nation will become the worst in the world. Here votes casted by masses are not valued," he said addressing a huge crowd near Data Darbar shrine in Lahore.
He said since 1947, PMs were treated the same. On an average, a PM had served the country for 1.5 years only, while three dictators had ruled around 10 years apiece, he added.
"This trend needs to be changed. Were all prime ministers wrong who came into power in 70 years?" he asked them.
He said by Allah (SWT)'s grace you voted me into power, however five people deseated me. Would you agree to this decision, he asked.
The prime minister said they disqualified him for not drawing salary from his son. If he hadn't taken money, who were they to ask, even if he had taken what wrong he had done, he queried.
"The same has been being done for the last 70 years. We would collectively change Pakistan. Promise me you will support me," he said.
"When you voted me you complained of loadshedding of electricity and gas supply. By Allah (SWT)'s grace, supply of electricity and gas has been rehabilitated and made available for commoners. Country is growing prosperous, peace has established on your demand but after all these developments is it how you treat a prime minister," he questioned.
He asked should they not be tried for their oppression against the PM? Should they not be held accountable? Should Nawaz have been disqualified?
"Is Nawaz not worthy of appreciation for all this development? You demanded peace and it was established. You sought for gas and it was provided. Now if you order I will establish honor for votes of 200 million population," he said.
He said you know whatever had been going on in the last four years. Sit-ins were staged, conspiracies hatched and despite all metro, orange line, employment, prosperity, and different more opportunities were provided, he added. Just imagine what not would have been done if all these activities of sabotage had not taken place, he maintained.
In the end, he condemned the bomb attack in Quetta and prayed for the departed souls.
Culminating his speech, he again sought commitment from his supporters to support him in his struggle "to change the system".
Nawaz Sharif speaks to supporters in Shahdara
Amid chants of Sher Aya, Sher Aya, Nawaz asked people of Shahdara if they accept the court verdict which resulted in his disqualification, to which his supporters said "No".
He repeated that he was elected by millions but removed in a minute by some elements.
Nawaz Sharif urged the people to support him in changing Pakistan for good and work towards a Pakistan where people's mandate is respected.
Nawaz's motorcade reaches Shahdara
Sharif's caravan has reached Shahdara and he will shortly speak to his supporters.
Thousands of the former PM's supporters are in attendance.
Nawaz Sharif's caravan enters Lahore
Nawaz Sharif's caravan has entered the city where he will make his last two speeches but as his cavalcade is moving at a snail's pace, he still hasn't reached Shahdara
The former PM will speak to his supporters in Shahdara and outside Data Darbar.
Three people held over possible terror plot in Data Darbar
Law Enforcement Agencies (LEAs) detained three people after recovering a pistol from possession of one of the suspects near the stage where Sharif is likely to deliver a public speech. They were arrested on suspicion of planning a possible terror plot.
Sharif addresses party supporters in Muridke
Delivering a public speech, he said the masses are real owners of the country rather than a handful people. "These people tear up your election ballot papers time and again," he added.
He asserted few people could not hold the entire nation hostage. "We will make the 200 million people of Pakistan to rule over them as you [people] are the real owners of this country," he added.
He asked the crowd whether they accept deposing of their premier, receiving a loud response 'no'.
Sharif reiterated that there were no allegations of corruption against him, adding that he was serving the country and its people. "I was building motorways, young people were getting job opportunities and Balochistan was progressing," he added.
Asking the crowd whether they stand by him and ready for a revolution, he said no other country in the faced similar situations as like Pakistan. "No other country in this world is being cheated like this," he added.
Raising his voice for a revolution, he said: "Are you ready for a revolution?"
"I promise a Pakistan to you where your mandate will not be insulted," he further said.
Ex-PM Sharif's convoy reaches Muridke 
Former PM Nawaz Sharif's reaches Muridke near Lahore city. A large number of party workers welcomed the deposed premier amid stringent security measures.
Police baton-charged crowd at Eminabad
Police baton-charged Pakistan Muslim League-N (PML-N) workers at Eminabad area who came to catch a glimpse of the party supremo in a bid to to keep the crowd away from Sharif's motorcade.
Following the incident, the enraged activists surrounded Sharif's convoy and lodged their protest.
Ousted PM Sharif resumes fourth-day journey
The former PM resumed his fourth-day journey towards Lahore amid large presence party supporters at around 12:30 pm after staying a night in Gujranwala city.
Delay in proceedings
Sharif was likely to resume his fourth-day journey at 11 am today but his travel faced delay for reasons better known to the party leaders and organisers.
Preparations in full swing ahead of Sharif's arrival in Lahore
The provincial capital city of Lahore has been decorated with posters and banners of Pakistan Muslim League-N (PML-N) exhibiting pictures of party supremo Nawaz Sharif, Punjab Chief Minister Shehbaz Sharif, and his son Hamza Sharif.
Camps have been placed at various spots of the city to welcome the deposed premier.
Meanwhile, Ravi Road has been closed for all kind of vehicular movement in wake of Sharif's arrival.
 Some shots and videos from the huge rally in Gujranwala on Day 3
King of hearts. Gujranwala gone mad pic.twitter.com/N3IlbsZFoX

— Gul Bukhari (@gulbukhari) August 11, 2017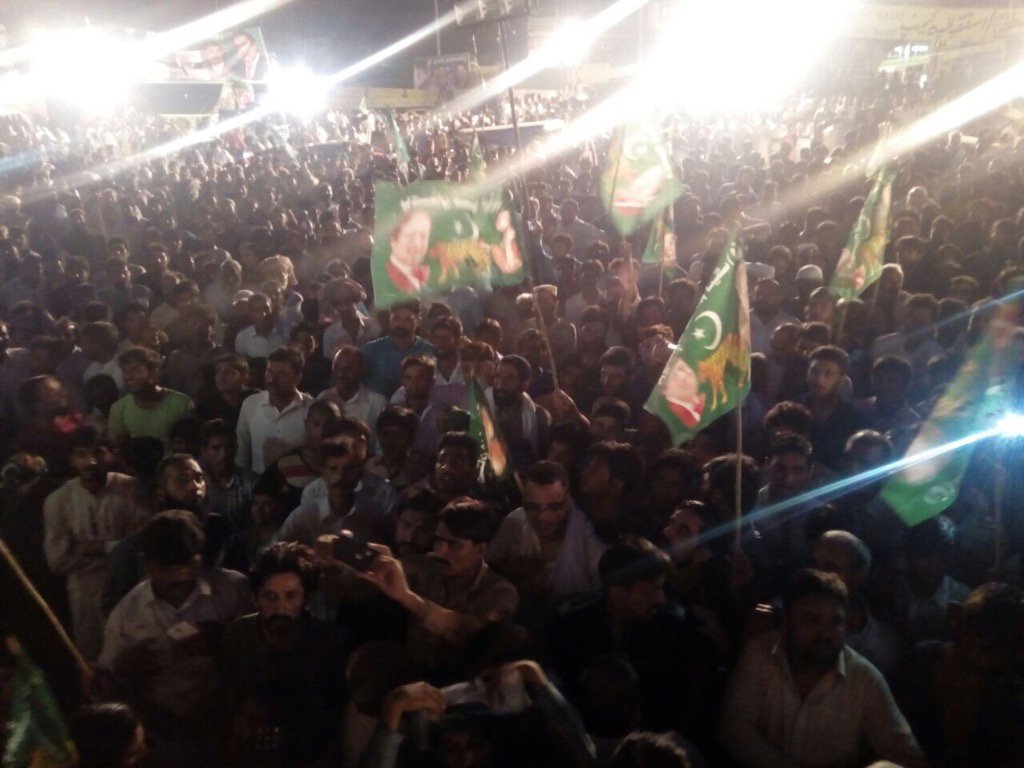 Seeing it up close was believing it. #Gujranwala #GTRoadRally pic.twitter.com/r2s6PGFr65

— Gul Bukhari (@gulbukhari) August 11, 2017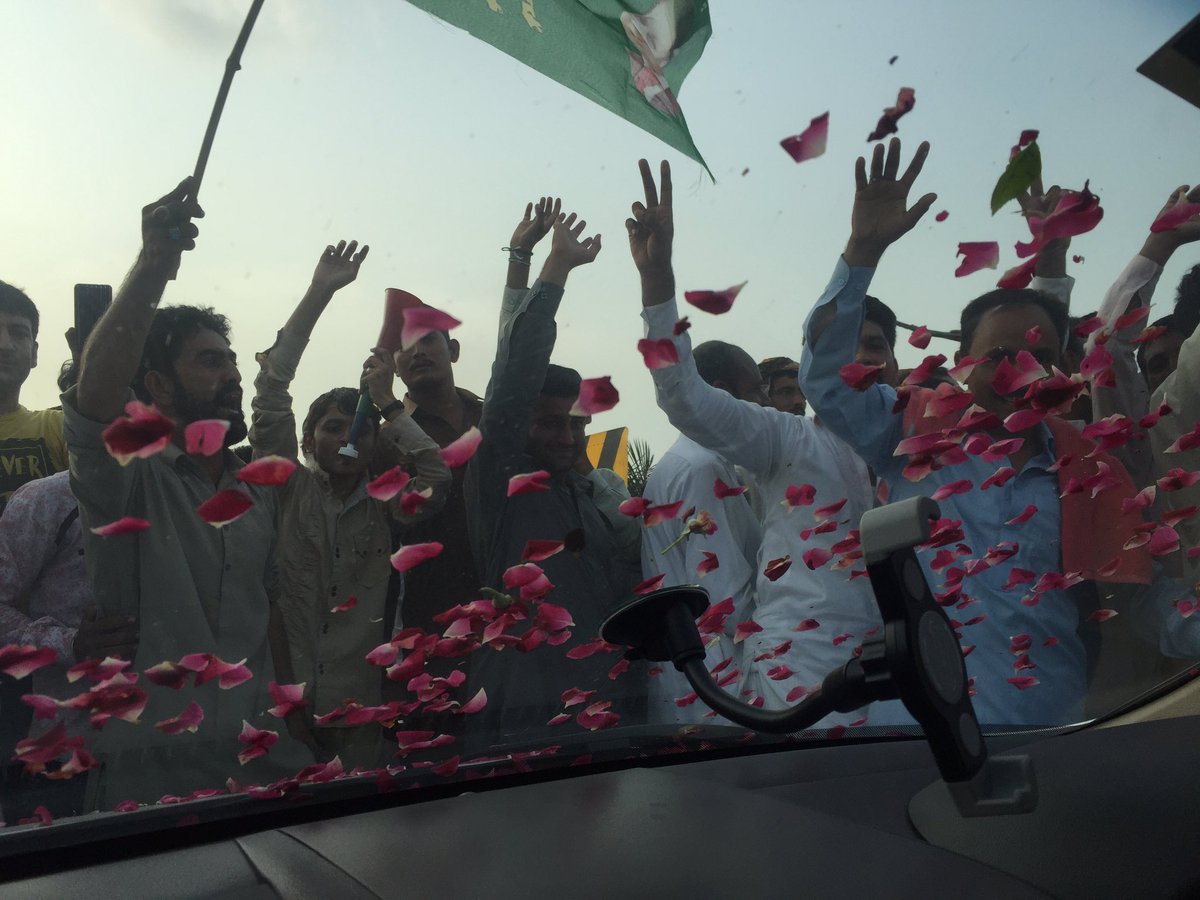 Nawaz Sharif addresses mammoth crowd in Gujranwala
A large number of people gathered in Gujranwala to welcome the rally and listen to Mian Nawaz Sharif's speech.
Amid chants of 'We Love You Nawaz Sharif', Nawaz spoke and said that his government was being conspired against since last three and a half years and he fought all the conspiracies but then the conspirators came up with a new scheme to remove him.
"Why was I removed? for I tried to solve energy crisis, ended load-shedding? or because I ended unemployment? or because I brought back the country on the path of development?," Nawaz asked the crowd.
He maintained that in the 70 year history of Pakistan, premiers weren't allowed to complete their term while dictators enjoyed extended rule.
"When will our votes be respected? It is only in Pakistan where premiers are treated like this, can you name a single country in South Asia where prime ministers are treated like this?" Nawaz asked the people of Gujranwala.
He repeated that he is not among the masses to restore himself as PM but to restore Pakistan's pride and voters' respect.
Nawaz Sharif asked the crowd to promise him that they will work for "change" in Pakistan and will support his agenda.
He claimed that the conspirators want him to sit at home.
"I will not sit at home, I will reach out to the masses," Nawaz promised a charged up crowd.
Khawaja Saad Rafique addresses crowd
Senior PML-N leader Khawaja Saad Rafique says one day PTI chief Imran Khan, JI chief Sirajul Haq and the third guy will swear that Nawaz wasn't disqualified due to their efforts but someone else did.
He did not name as to who actually disqualified the former PM and also who is the third guy.
Analysts say, by third guy, he apparently meant to hit at Sheikh Rasheed.
Nawaz's caravan reaches Gujranwala
Nawaz Sharif addresses party workers 
Addressing party supporters in Gujrat, ex-PM Nawaz Sharif reiterated that not a single-penny corruption has been proved against him. "Your mandate has been insulted with my disqualification," he remarked.
Soliciting support from the party loyalists, Sharif said he has not filed an appeal in the court against his ouster since the masses are one to exonerate him. "My only appeal is in your court," he added.
He lamented that he has been ousted for stabilizing the economy, generating job opportunities, and undertaking development projects across the country.
"Have you accepted the court's disqualification decision," he asked while addressing the party workers. The crowd responded 'no' in reply to Sharif's question, the deposed PM then solicited support from party workers, asserting he would not sit idly at home.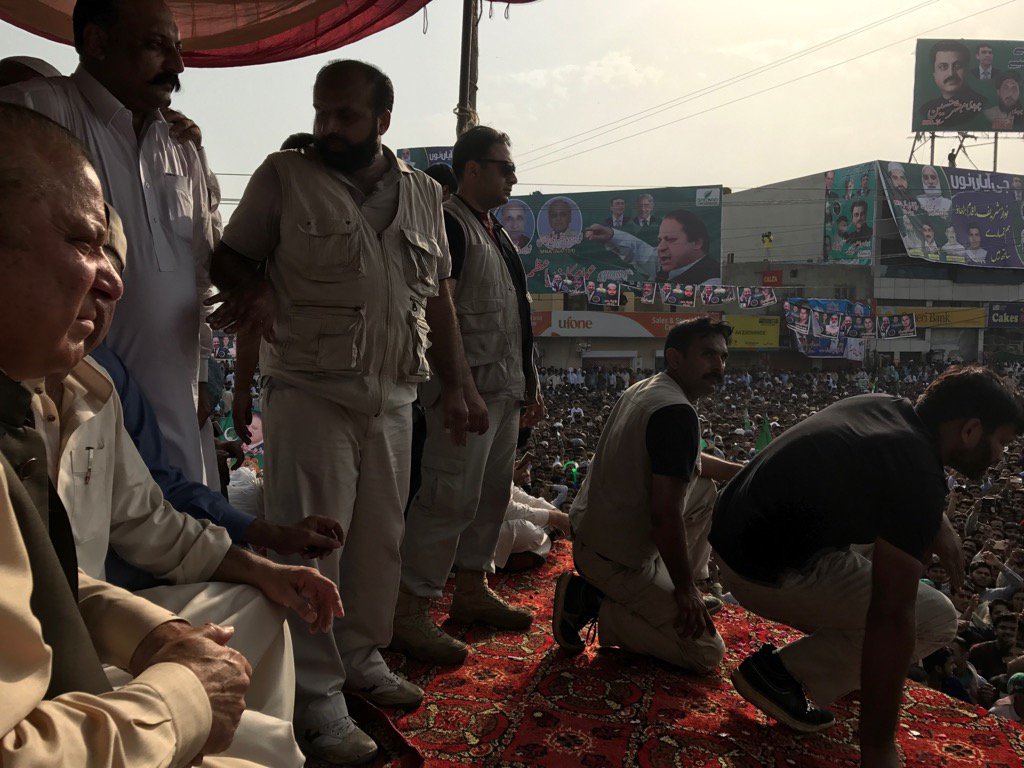 "If you want me to continue this development phase and overcome all civic issues, support me," Sharif remarked while deploring his third dismissal as Prime Minister.
He further asked: "Will you stand with me for a progressive and prosperous Pakistan?" to which the party supporters responded 'yes'.
To which he said: "For a better Pakistan, you have to do what I say. Wait for my message!"
Motorcycle kills 55 year old in Gujrat
Sharif's motorcade runs over teenager
One of vehicles in Nawaz Sharif's rally ran over a teenager, injuring him critically who succumbed to his injuries during treatment.
According to our correspondent Aamir Butt, the boy was resident of Lala Musa who came to see the ex-PM's convoy when a vehicle of Elite Force – tasked to provide protocol to Nawaz Sharif – hit and critically injured him who succumbed to his injuries during medical treatment.
The victim has been identified as 16-year-old Rehmat.
Talking to ARY News, PAT leader Khurram Nawaz Gandapur said that a case should be registered against the former premier.
Subsequently, ruling party's Rana Sanaullah affirmed an inquiry into the matter while talking to the channel. However, he said the convoy was moving at snail's speed while condemning the incident.
According to eye witnesses and local residents, the vehicle bearing number plate '265' of the police escort hit the boy. "The vehicle's driver did not stop over seeing boy coming in front of it and ran over him," a resident told media.
Ex-PM reaches Gujrat
Reaching Gujrat in a convoy, Sharif is to offer his Friday prayer in congregation at a mosque in factory area. He might address party workers following the Friday prayers.
Sharif's convoy reaches Lala Musa
Amid stringent security arrangements, Sharif convoy reached Lala Musa after passing through Kharian. Aerial surveillance is also being conducted.
Barriers have been erected on GT Road, suspending all kind of vehicular traffic.
Nawaz Sharif's rally heading towards Kharian from Sarai Alamgir
Ex-PM Nawaz Sharif may make a stop at Kharian where he might address party supporters and workers.
The ruling party workers have set up a stage in Gujrat and Gujranwala respectively while security has been beefed up ahead of Nawaz's arrival in both cities.
Nawaz Sharif sets off his third-day journey
Nawaz Sharif, in a convoy, resumed his homegoing rally on third consecutive day amid strict security measures.
Delay in proceedings
Sharif was likely to resume his third-day journey at 1o am today, as Saad Rafique announced yesterday, but his travel faced delay for reasons better known to the party leaders and organisers.
Security beefed up in Gujrat – the next stopover
Security has been beefed up in Gujrat, the next stopover. The route of the PML-N rally is being properly checked by experts of the special branch and the Bomb Disposal Squad (BDS). It will also be cleared by sniffer dogs besides heavy deployment of personnel of Elite Force.
Meanwhile, the local traffic police has also evolved a comprehensive traffic plan to ensure smooth traffic flow in the city ahead of Sharif's arrival.
Some shots from the rally in Jhelum on day 2 
4km jammed at Jehlum, far as at least my naked could see from top of 3 story building. #MarchForDemocracy #GTRoadRally pic.twitter.com/GVtTPyUZv3

— Gul Bukhari (@gulbukhari) August 10, 2017
Nawaz addresses huge crowd at Jhelum
Addressing the crowd in Jhelum, former prime minister Nawaz Sharif asked his party supporters that even the SC judges did not disqualify him over corruption.
"I would like to disclose that I am made powerless by a decision made by five respected judges. I wonder that the five respected judges disqualified me within a blink of an eye against millions of peoples' votes. Did I do corruption or they only objected on not drawing salary from my son's company," he questioned.
They (the judges) also admitted that I was not involved in corruption. Then, you (nation) should ask why had Nawaz been deposed when he was not involved in any graft, he said.
"By God's grace I am free of any corruption charge. My heart is pure in love for Pakistan. What I only worry is about the future of our youth. I do not give a damn that I have been ousted," he said.
Nawaz's caravan enters Jhelum
Ex-PM makes brief speech at Sohawa
Addressing briefly at Sohawa, the ousted PM asked the participants whether they support the top court's verdict.
He reiterated that there are no allegations of corruption against him while insisting that the five-member bench disqualified 200 million people for ousting an elected Prime Minister. Asking the participants whether they acknowledge the court's disqualification orders, he further said that the apex court's judgment was an insult to million of voters for deposing their elected leader with the stroke of a pen.
Rally heading towards Jhelum – the next stopover
Picking up speed, the rally passed Gujar Khan after a brief halt where ex-PM delivered a speech. The rally is currently heading towards Jhelum where Nawaz Sharif is likely to address a public speech.
The rate at which it was traveling accelerated over security concerns, party sources said.
Sharif's vehicle has separated from the rally, along with a police escort as he is not traveling in the bombproof container. He did not stop at a camp where workers had gathered, and crossed a number of small stops.
Nawaz Sharif delivers brief speech at Gujar Khan
In his brief speech, he said that his endeavours are to see a stronger democratic Pakistan where the public mandate could not be insulted.
"Rule of law and constitution is my sole agenda," he added.
Deposed PM's rally reaches GT Road
Ex-PM Nawaz Sharif in a motorcade reached GT Road. He is expected to stop at Jhelum today before proceeding to Gujranwala. Currently, he is traveling in his vehicle and not present in the container.
Convoy moving towards GT Road from Katcheri Chowk Rawalpindi
The convoy is moving at snail's pace currently and traveling towards GT Road from Pindi's Katcheri Chowk from where ex-PM Nawaz Sharif is expected to continue his journey in the bombproof container.
According to our correspondent, at least three receptions have been arranged to welcome Sharif in Gujranwala where ousted PM is also likely to deliver his second public speech. 
Nawaz Sharif sets off his second day journey
Amid the stringent security measures and presence of party workers, Nawaz Sharif leaves for Katcheri Chowk from Punjab House in a convoy.
Sharif's rally expected to resume shortly
After arrival of party leaders to Pindi's Punjab House where Nawaz Sharif stayed last night, the party workers continue to gather at Katcheri Chowk. Nawaz Sharif will arrive to Katcheri Chowk in a convoy. A large number of police personnel have been deployed around Punjab House. 
Marvi Memon, Amir Muqam, Daniyal Aziz, Talal Chaudhry, Abid Sher Ali besides many others are currently present at Pindi's Punjab House. All vehicular traffic to Katcheri Chowk from High Court has been halted to ensure foolproof security. 
Day one of GT Road rally ended with Sharif's public speech 
On Wednesday, ex-PM addressed his party workers and supporters at Rawalpindi's Committee Chowk for first time after his ouster.
Seeking support of the masses, Sharif urged party workers and supporters to work with him to make a Pakistan where peoples' mandate could not be insulted and the premiers not deposed on a minority's whims but only by vote.
"Promise me, you will not let anyone disrespect your mandate or insult your PM, none will give you your rights if you (the people) will not fight it," said Nawaz Sharif.
He finished his speech by saying that he is now content as people's court has now exonerated him of all charges.
The former PM addressed his workers and supporters at Rawalpindi's Committee Chowk, one of the various stopovers, during his travel route to Lahore.
He maintained that he, being an elected PM, was ousted on a flimsy ground like not receiving a salary from his son's company.

"In last 70 years, none our premiers completed his/her term, either they were executed, killed, dismissed or sent to prison," Nawaz reminded his supporters.
He claimed that he is going to Lahore through GT Road not to get himself restored but to get respect for voters, democracy and Pakistan.
He finished his speech by saying that he is now content as people's court has now exonerated him of all charges.
Awam ki adalat ne apna faisla suna diya ………

— Maryam Nawaz Sharif (@MaryamNSharif) August 9, 2017
The former PM will start his journey from Committee Chowk at about 11 AM in the morning.
Nawaz Sharif's caravan reaches Committee Chowk
Nawaz Sharif's motorcade has reached Rawalpindi's Committee Chowk where he addressed supporters and attendees of the rally.
Saad Rafique and Mushahidullah address party supporters
PML-N leaders Khawaja Saad Rafique and Mushahidullah Khan addressed the party supporters on Murree Road.
The two leaders, in their fiery speeches, urged the supporters to stand firm against the party's detractors in this "hour of test"
Nawaz Sharif is expected to address the crowd on Rawalpindi's Committee Chowk.
People's court has exonerated Nawaz Sharif: Marriyum Aurangzeb
The minister of state for Information, Broadcasting and National Heritage Ms Marriyum Aurangzeb speaking to PTV here today said that people's court had exonerated Nawaz Sharif as those who voted for him knew that he had done no corruption and the solidarity shown by them today proved that beyond any iota of doubt.
She said that the whole nation today witnessed the trust that the people had in Muhammad Nawaz Sharif.
The minister observed that when the caravan started from Islamabad , the people who had come from all over the country exhibited their spontaneous love for Nawaz Sharif and it was due to the huge number of people that the caravan could not reach in time at the destination where Nawaz Sharif had to address the people at 4.30 PM. She said that Nwaz Sharif would deliver his first address at Committee Chowk as per schedule but his security was top priority.
Marriyum said that Nawaz Sharif was going home and the rally in no way could be construed as protest against any institution.
The Caravan enters Rawalpindi
It took the former PM's caravan at least seven hours to enter Rawalpindi from Islamabad.  Information Minister Marriyum Aurangzeb told media that the caravan, when it left Islamabad had at least 2800 vehicles accompanying it.
We thought we would reach Jhelum tonight & therefore was declared as 1st stop but rally is stuck up at Murree rd for the last few hours. https://t.co/VFUQEdJnKV

— Maryam Nawaz Sharif (@MaryamNSharif) August 9, 2017
The caravan is right now at Murree Road, Rawalpindi. Sources say Nawaz Sharif will spend the night at Punjab House, Rawalpindi.
That's him. Clearly King of Hearts Never seen anything like this. People of the city on foot, on roads for miles … pic.twitter.com/yBcLVNsIUN

— Gul Bukhari (@gulbukhari) August 9, 2017
Unclear figure of vehicles in Motorcade 
Despite ruling party's claims of large number of vehicles taking part in Sharif's homegoing rally besides people and the party workers, the exact figures remained obscure as the independent sources and media reports suggest the figures reported by PML-N were exaggerated. However, much later on Wednesday evening the crowd started joining the former premier's rally when it reached Faizabad Interchange.
Abid Sher Ali's 'Marhab' tweet
Nawaz Sharif moves to his bombproof container
After reaching Shakarparian hills, Nawaz Sharif alighted from his car and moved to his bombproof container to proceed to Lahore. He has been travelling in a car up till now after leaving Punjab House early today.
Aerial view of Sharif's rally in Islamabad 
According to sources, the motorcade comprised of 4,000 to 5,000 cars with less than 10,000 people participating in the rally.
"Awaam ka samandar".#GTRoadRally pic.twitter.com/CuLcj5lQmb

— azhar khan (@Azharkh4) August 9, 2017
Pamphlets distribute among workers 
Pamphlets showing Nawaz Sharif's Iqama (work permit) were distributed among the workers which read: "This was the multi-billion corruption for which an elected Prime Minister was ousted."
ARY News team attacked by PML-N activists near Faizabad
Activists of PML-N, under an organized plot, attempted to attack ARY News DSNG van near Faizabad, but police intervened to push rally participants away for the time being.
Police officials informed the ARY team that rally participants could again attack the DSNG van and workers of the channel. PML-N activists also threatened the ARY News reporter and tried to snatch his cell phone to hamper the live coverage.
Sharif's procession moves at snail's pace, reaches Zero-Point 
The convoy reaches Zero Point as the procession is moving at a slow pace. Tight security preparations have been made along GT road, with the deployment of plain-clothed policemen as well as elite force commandos. Talal Chaudhry briefly alighted from
Sharif's convoy reaches D-Chowk Islamabad
Amid the stringent security measures, Sharif's convoy reached D-Chowk of federal capital. Ex-Interior Minister Chaudhry Nisar is driving Sharif's car.
Nawaz Sharif emerges from Punjab House
A large number of party workers surrounded his car before he departed for Lahore. Incumbent PM Shahid Khaqan Abbasi and Finance Minister Ishaq Dar saw him off on the occasion.
Departure delayed
Sharif was likely to leave Punjab House in a bombproof container at 10 am today, but his departure faced delay for reasons better known to the party leaders and organisers.
The decision to reach out to masses travelling via GT Road was taken at Punjab House, in a party meeting, a couple of days ago.
He is expected to make his first stay in Jhelum where he will address a public gathering.
After his ouster as prime minister in the wake of Supreme Court's judgment in the Panama Papers case, Nawaz Sharif vacated the PM house and left for Murree along with other family members on last Sunday.
Sharif had been holding consultative meetings with the party members in Murree over the formation of the new cabinet and other political issues.
Sharif's 'homegoing' rally may take four to six days: Party Sources
Local PML-N chapters are making arrangements for Nawaz Sharif's night stay at Jhelum, Gujrat and Gujranwala, while he is also scheduled to address public meetings at almost all major and small towns falling on the route, which included towns of Gujjar Khan, Dina, Kharian, Sarai Alamgir, Wazirabad, Kamonki and Muridke.
Deposed Nawaz Sharif's bombproof container 
Nawaz Sharif has been averse to 'containers' politics' – taking to roads and holding sit-ins, public gathering – as time and again he has been referring such acts as hurdle in way of the country's development.
He has been lashing out at Pakistan Tehreek-e-Insaf (PTI) Chairman Imran Khan and Pakistan Awami Tehreek (PAT) Chairperson Dr Tahirul Qadri for traveling in containers and holding sit-ins. However, after his ouster as the premier, Sharif is also going to travel in an air conditioned container equipped with all latest facilities.
A bombproof container has been built encompassing all the modern facilities including AC room, separate compartments for drawing room and bedroom.
Security threats
Apathetic to all security risks and other challenges, ousted Prime Minister (PM) Nawaz Sharif departed for Lahore in a cavalcade via GT road on Wednesday morning.
Following the Lahore blast, he insisted to continue with his planned Lahore visit despite security concerns while talking to reporters at Punjab House here on Tuesday as what he said: "I will not wait for situation to become normal as I have right to go home."
All arrangements had been finalised for Sharif's Lahore visit. He was reportedly warned against proceeding to Lahore by road by some of the senior party leaders including his brother, Punjab Chief Minister Shahbaz Sharif, Interior Minister Ahsan Iqbal and Chaudhry Nisar Ali Khan.
Major opposition parties take swipe at Sharif for taking to 'Container Politics'
Pakistan Peoples' Party (PPP) Punjab leader Qamar Zaman Kaira in a press conference on Wednesday said the ex-PM has been crying foul about the use of containers in the politics by opponents. "[However], he entered to similar kind of politics today by embarking on GT Road rally."
He said Sharif is apparently defying the court orders despite his promise to accept the verdict in the Panamagate case whatever it may be. "Tell the masses who has conspired against you," Kaira urged.
Kaira also lashed out at the provision of security to Nawaz, as what he said that a disqualified person cannot hold any position in a political party while implying misuse of state machinery.
Claiming a low turnout at GT Road rally, he said it simply shows Nawaz's diminishing popularity.
Calling Nawaz Sharif's rally as an attempt to undermine the Supreme Court's final verdict in the Panama Papers case, Pakistan Tehreek-e-Insaf (PTI) Central Information Secretary Shafqat Mahmood on Wednesday said that former Prime Minister (PM) Nawaz Sharif's travel to Lahore via the Grand Trunk (GT) Road is his business but using patwari [land revenue officials] sponsored crowds to defy/malign the top Court is dangerous politics, aiming to undermine the democracy.
Comments
comments