Qadri calls Shahbaz Sharif a 'murderer', vows to get him hanged over Model Town massacre
LAHORE: Addressing a sit-in in Lahore, Pakistan Awami Tehreek (PAT) chief Dr. Tahir-ul-Qadri on Wednesday termed Chief Minister Punjab Shahbaz Sharif a "murderer" and vowed to get him hanged over the 2014 incident, ARY News reported.
The PAT chief who lost 14 of his workers in 2014 Model Town incident demanded that the Baqir Najfi inquiry report over the incident be made public for the sake of the families of martyrs.

Speaking to a sit-in organized by the affectees of the Model Town incident, the PAT chief said that the martyrs' have right to know who is being blamed for the incident and to determine who is responsible for the incident.
He questioned about the reasons the Lahore High Court has not made the report public and instead suggested that a impartial bench to be set up to decide whether the report should be declassified.
14 people were shot dead on July 17, 2014 when Punjab police launched a crackdown against PAT activists outside the headquarters of the Minhaj-ul-Quran and Qadri's residence.
An inquiry report in to matter commissioned by Justice Baqir Najafi has not yet been made public by the Lahore High Court or the Punjab government.
"You have completed your ethical, moral and religious obligation by participating in the sit-in on Mall Road," said the cleric to the families of the Model Town incident who have remained determined and steadfast against oppression
"You are not alone, you will eventually get justice, it is only a matter of time," he said. "The criminal of Panama case has been caught, now it's time for the criminals of Model Town,"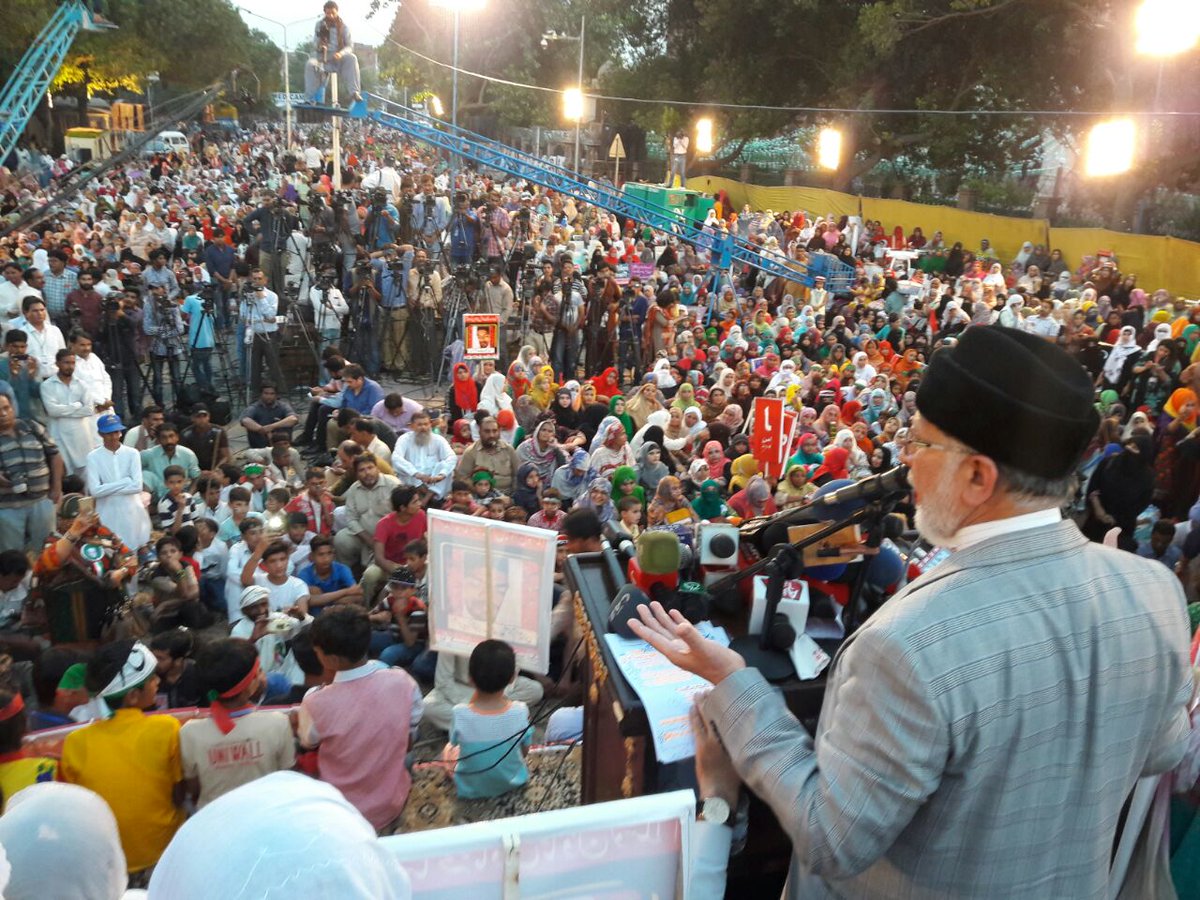 Referring to Punjab Chief Minister Shahbaz Sharif as the prime suspect of the incident, he said the sit-in is to express solidarity and moral support with the victims of the Model Town incident.
"The political history of Pakistan shows that you have undermined the vote of the people," he thundered referring to ousted Prime Minister Nawaz Sharif.
He referred to how Nawaz Sharif conspired to overthrow the democratically elected governments of Benazir Bhutto in the 1990s, dissolved assemblies and didn't set up rallies for the restoration of democracy and instead introduced a culture of political horse-trading in the country for his own political and vested interests.
"Nawaz Sharif is only speaking about revolution after being disqualified by the Supreme Court," he said. "This revolution is only to save Nawaz and Shahbaz Sharif," warning both are worried about retribution for the Model Town incident.
Awami Muslim League chief Sheikh Rashid Ahmed and Pakistan Tehreek-e-Insaf leaders Mian Mehmoodur Rasheed, and Firdous Ashiq Awan were also present in the sit-in.
Qadri announced to continue the movement till justice for the Model Town incident victims is not received and hold subsequent rallies and sit-in in Faisalabad and Rawalpindi ahead of Eid-ul-Adha.
Comments
comments