What Nawaz Sharif did before October 12 coup too was unconstitutional: Musharraf
DUBAI: Former military ruler General (retd) Pervez Musharraf on Tuesday said that the reasons behind military's October 12, 1999 coup was the unconstitutional steps taken by the then prime minister Nawaz Sharif, ARY News reported on Tuesday.

In an interview with ARY News, the former military ruler accepted that the move was unconstitutional but what Nawaz did too was unconstitutional by removing an army chief before the end of his term and then "hijacking his plane".

"It (constitution) gives (PM) the right to appoint an army chief but it is nowhere (in the constitution) that the PM can remove him before his (three year) term. There is a doubt, a question mark," said Musharraf.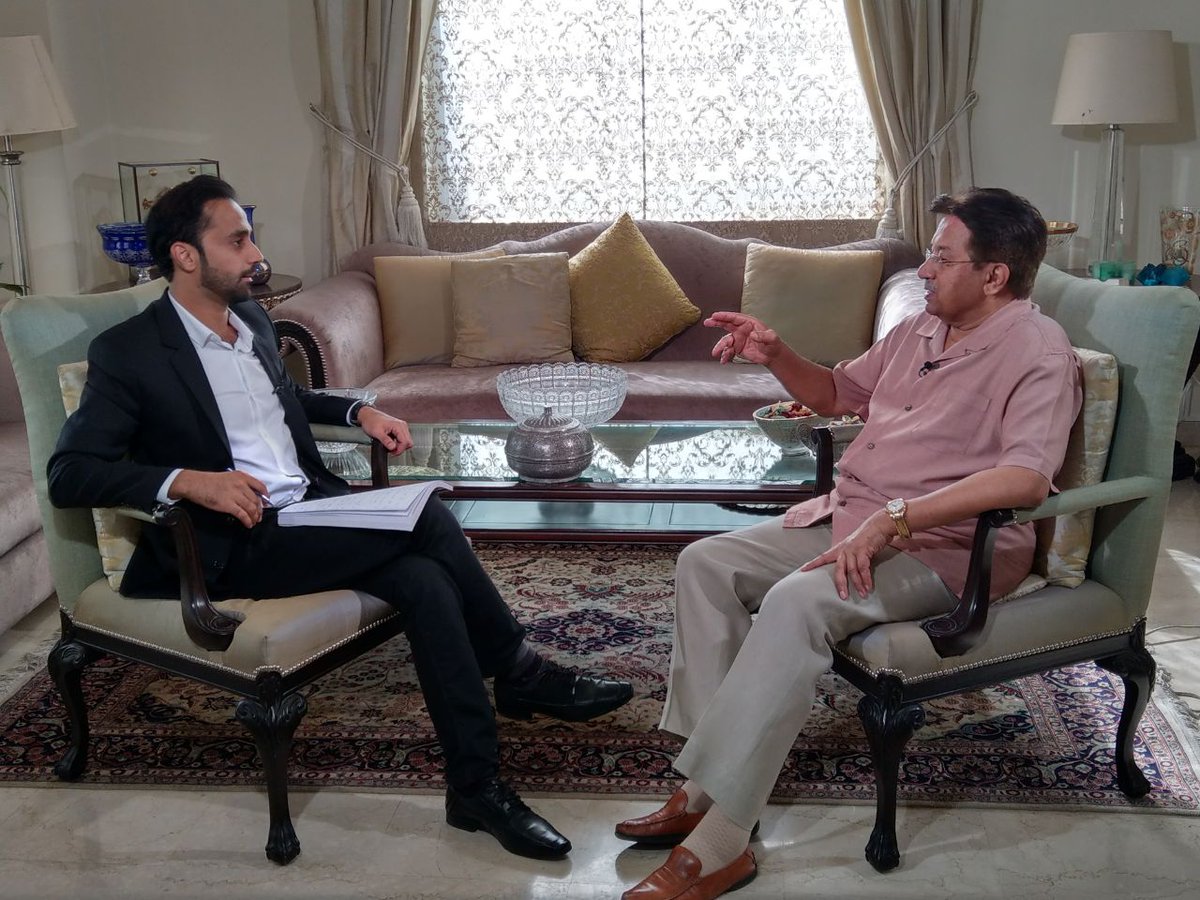 He repeated his claim that the "hijacking" and order of "landing his plane in India" led military to stage a coup in the year 1999 and such actions are the need of the hour and constitution can be compromised for the security of state.
It is pertinent to note here that Pervez Musharraf recently received a lot of criticism for saying military rulers put the country on the correct track while the civilian governments derail it from the right path.
In an interview with BBC Urdu, Musharraf had said, "Whenever martial laws were imposed in Pakistan it was the need of the hour."
When asked about this statement, Musharraf maintained that his statement was not in favour of martial law or against democracy and he was just analyzing the history as Pakistan progressed under military rulers.
"It doesn't mean that military should rule, government should be run by civilians," he clarified.
'Every coup has been validated by SC'
Answering a question about Nawaz Sharif's statement that dictators are never questioned about violating the constitution, he said that Supreme Court has validated all the coups including the 1999 coup.
"I remained there (in Pakistan) for three years and six cases have been registered against me and I visited court 15 times.. if this is not accountability, what is?" asked Musharraf.
When asked if he will now come back to Pakistan, he said that he is feeling well but he has to travel to US for a medical checkup.
"If they do not put my name on ECL and allow me travel, I will come to Pakistan," said Musharraf.
He repeated his statement that he has full trust in Supreme Court (after Panama case verdict).
'I consider Ayesha Gulalai as a very honorable person'
When asked about former PTI MNA Ayesha Gulalai who leveled sexual harassment allegations against Imran Khan, he said that he has met Ayesha Gulalai and find her "a very honorable person",  "was very capable" and carried herself very well.
He, however, did not comment upon the issue.
HERE IS THE VIDEO OF THE FULL INTERVIEW
Comments
comments