Pakistan beat World XI by 20 runs in first Independence Cup clash
LAHORE: Pakistan Tuesday took a giant step towards reviving international cricket at home with a 20-run victory over the World XI in a match before excited crowds amid tight security.
SCROLL DOWN FOR WORLD XI INNINGS' HIGHLIGHTS
The Twenty20 match, accorded international status by the International Cricket Council, is only the second time Pakistan has hosted an international match since March 2009, killing eight people and injuring seven players and staff.
Highlights of World XI batting
"I came here early to watch the teams come but that was not possible due to security so I only watched them in the ground and it made my day," said spectator Azfar Ali.
Pakistan, sent into bat by World XI skipper Faf du Plessis, notched 197-5 with Babar Azam hitting a rapid 52-ball 86. His career best Twenty20 score had ten boundaries and two sixes.
Azam added 122 for the second wicket with Ahmed Shehzad (39) as Pakistan built on the loss of opener Fakhar Zaman for eight.
Shoaib Malik smashed a 20-ball 38 with two sixes and four boundaries to give the final touches to the innings.
The World XI started off well with Tamim Iqbal hitting 18 with three boundaries and Hashim Amla smashing three boundaries and a six in his 17-ball 26 but left-arm pacer Rumman Raees dismissed both in the same over to put the brakes on their innings
Skipper Faf du Plessis hit four boundaries and a six while Darren Sammy smashed three sixes — both scoring 29 — but were unable to see their team through.
For Pakistan, paceman Sohail Khan and leg-spinner Shadab Khan finished with two wickets apiece.
World XI skipper du Plessis blamed his dismissal for the team's loss.
"I needed to get a 50 or 60 for us to win," he said, adding that it was "great to play in front of the Pakistani fans".
Pakistan captain Sarfraz Ahmed thanked the crowd.
"It was a historic occasion and I thank the crowd for coming in good numbers," said Ahmed.
"It was a very important match and I think no praise is too high for our players, especially Azam."
Scroll down for live updates
Pakistan hopes the series will help end their international isolation, with Sri Lanka due to play a Twenty20 in October followed by three Twenty20 internationals against the West Indies in November.
Tuesday marked the first time that five of the Pakistan players — Ashraf, Zaman, Shadab, Raees and Hasan Ali — played an international match on home soil.
Congratulations @iFaheemAshraf on your T20I debute #PAKvWXI #Cricke pic.twitter.com/UcDlY8l767

— PCB Official (@TheRealPCB) September 12, 2017

After eight years of isolation, Pakistan cricket team faced star-studded World XI team featuring international players before home crowd.
Unbelievable feeling!
Game is done! 🇵🇰 in one up!🙂
Thanks WXI🙏🏻for giving this beautiful country days and moments to remember🤝#PAKvWXI

— Syeda Nain Abidi (@SyedaNain18) September 12, 2017
.@faf1307 won the toss for World XI and elected to bowl first #PAKvWXI #CricketKiHalalala pic.twitter.com/nY2riGSFJP

— PCB Official (@TheRealPCB) September 12, 2017
Jeevay Pakistan! Well done team Pakistan! You batted like champions and bowled like warriors! (1/2) #CricketComesHome #PAKvsWorldXI

— Shoaib Akhtar (@shoaib100mph) September 12, 2017
Well done team Pakistan 🇵🇰, well played @babarazam258 👍, enjoyed the crowd response & atmosphere created by them, cheering for every1 👍👍👍

— Mohammad Hafeez (@MHafeez22) September 12, 2017
Congratulations #teampak.
A wonderful win. Well played @babarazam258
You all proved once again that our bowling combination is the best.

— Junaid khan 83 (@JunaidkhanREAL) September 12, 2017
.@babarazam258 is the Man of the Match for his outstanding innings #PAKvWXI #cricketkihalalala pic.twitter.com/nPSPyKiJ1G

— PCB Official (@TheRealPCB) September 12, 2017
His innings got Pakistan up to their match-winning total of 197; @babarazam258 wins POTM for the 1st #PAKvWXI T20I:https://t.co/xuWqhdIPOl pic.twitter.com/HpJvqMxzPu

— ICC (@ICC) September 12, 2017
Welldone team pakistan and good fight back by world XI👍👍😊😊

— Mohammad Amir (@iamamirofficial) September 12, 2017
Cricket is in the Air. 😍 Jeevay Pakistan 🇵🇰
Thank you World 11 for giving us a day to remember.Well played @babarazam258 #CricketComesHome

— Kainat Imtiaz (@kainatimtiaz16) September 12, 2017
On a historic entertaining night in Lahore, World XI captain @faf1307 was gracious in defeat after the 1st T20I. #PAKvWXI pic.twitter.com/NgUQgl7L9P

— ICC (@ICC) September 12, 2017
Fixtures
1st T20I, September 12, Gaddafi Stadium, Lahore  at 7:00PM
2nd T20I, September 13, Gaddafi Stadium, Lahore at 7:00PM
3rd T20I,  September 15, Gaddafi Stadium, Lahore at 7:00PM
LIVE UPDATES
World XI: 177/6
OVER 20: Hasan Ali (6-0-1-1-wk-4)
Thisara Perera: 17 (11)
Darren Sammy: 29 (16)
OVER 19: Rumman Raees (0-0-6-0-6-1)
Thisara Perera: 17 (11)
Darren Sammy: 16 (10)
OVER 18: Hasan Ali (1-0-0-1-0-1)
Thisara Perera: 16 (10)
Darren Sammy: 4 (5)
OVER 17: Sohail Khan (4-2-wk-1-1-1)
Thisara Perera: 15 (7)
Darren Sammy: 2 (2)
Grant Elliott: 14 (8)
OVER 16: Rumman Raees (0-1-1-1-4-4-4)
Grant Elliott: 8 (5)
Thisara Perera: 14 (6)
OVER 15: Shadab Khan (2-4-1-6-wk-1)
David Miller: 9 (7)
Grant Elliott: 7 (4)
Thisara Perera: 1 (1)
Miller comes down the track missed the ball and @SarfarazA_54 did the rest. World XI 123/5 (14.5 ov) #PAKvWXI #CricketKiHalalala

— PCB Official (@TheRealPCB) September 12, 2017
OVER 14: Sohail Khan (0-1-wk-1-1-0)
Tim Paine: 25 (25)
David Miller: 3 (5)
Grant Elliott: 0 (1)
Nifty footwork at the boundary by Rumman to send Paine to the dugout #PAKvWXI pic.twitter.com/1Ogzb7Qjdc

— PCB Official (@TheRealPCB) September 12, 2017
PAKISTAN 🇵🇰 let's celebrate 🎉 #PAKvsWX1 #CricektKiHalalala #CricketComesHome ❣

— Kainat Imtiaz (@kainatimtiaz16) September 12, 2017
Sohail Khan strikes for Pakitan Tim Paine departs after scoring 25. World XI are 108 for 4 after 13.3 overs #PAKvWXI #CricketKiHalalala

— PCB Official (@TheRealPCB) September 12, 2017
OVER 13: Shadab Khan (1-0-wk-1-0-1-4)
Tim Paine: 25 (24)
David Miller: 1 (1)
Faf du Plessis: 29 (18)
OVER 12: Hasan Ali (4-0-4-6-4-4)
Tim Paine: 20 (21)
Faf du Plessis: 29 (16)
OVER 11: Shadab Khan (1-1-0-6-1-1)
Tim Paine: 20 (21)
Faf du Plessis: 11 (10)
OVER 10: Imad Wasim (1-1-0-1-1-4)
Tim Paine: 12 (17)
Faf du Plessis: 9 (8)
OVER 9: Shadab Khan (0-0-0-1-0-1)
Tim Paine: 10 (15)
Faf du Plessis: 3 (4)
OVER 8: Imad Wasim (0-0-0-1-1-1)
Tim Paine: 9 (11)
Faf du Plessis: 2 (2)
OVER 7: Faheem Ashraf (4-0-0-1-1-1)
Tim Paine: 7 (6)
Faf du Plessis: 1 (1)
OVER 6: Rumman Raees (4-wk-1-4-0-wk)
Tamim Iqbal: 18 (18)
Hashim Amla: 26 (17)
Tim Paine: 1 (1)
OVER 5: Hasan Ali (0-1-1-4-4-0)
Tamim Iqbal: 14 (16)
Hashim Amla: 22 (14)
We had a busy but eventful evening before the real cricketing action kicked in. Here are the highlights of what happened at GSL! #PAKvWXI pic.twitter.com/3uhThlne3O

— PCB Official (@TheRealPCB) September 12, 2017
OVER 4- Sohail Khan- (0-4-4-0-0-1-1)
Tamim Iqbal 13
Hashim Amla 13
OVER 3 – Imad Wasim (1-0-0-0-6-0)
Tamim Iqbal  4
Hashim Amla 12
OVER 2- Sohail Khan- (0-1-4-1-0-1)
Tamim Iqbal 3
Hashim Amla 6
OVER 1- Imad Wasim (0-0 wide-1-1-0-0-1)
Hashim Amla 1
Tamim Iqbal 2
World XI starts its innings with Tamim Iqbal and Hashim Amla in the middle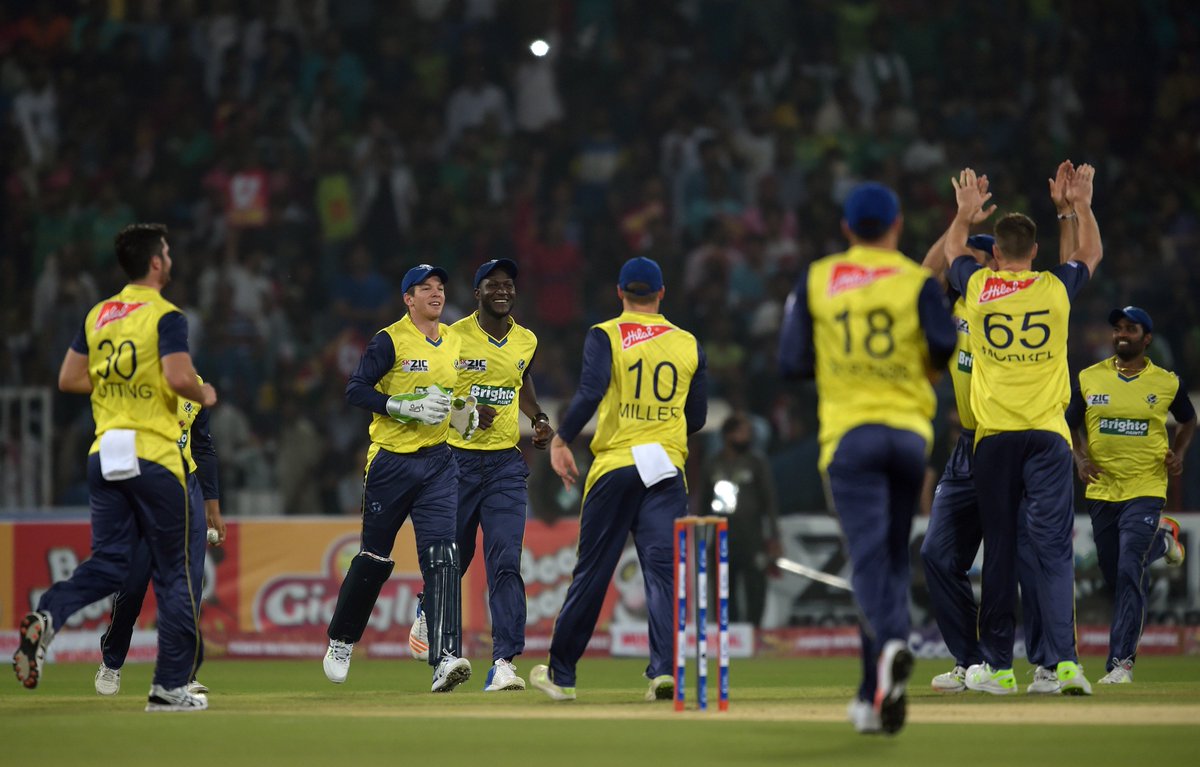 With a brilliant batting performance of @babarazam258 and a worthwhile cameo of @realshoaibmalik Pakistan set the target of 198 #PAKvWXI pic.twitter.com/MQMYiufaF6

— PCB Official (@TheRealPCB) September 12, 2017
Pakistan: 197/5
Over 20: Thisara Perera (6-wk-1-6-2-6)
Faheem Ashraf: 0 (1)
Shoaib Malik: 38 (20)
Imad Wasim: 15 (4)
Over 19:  Ben Cutting (4-4-4-1-1-1)
Shoaib Malik: 32 (18)
Imad Wasim: 1 (1)
More fantastic shots of Pakistan fans having the time of their lives at the Gaddafi Stadium! #PAKvWXI pic.twitter.com/JEVBltZViv

— ICC (@ICC) September 12, 2017
Over 18:  Thisara Perera (1-0-6-4-1-wk)
Shoaib Malik: 18 (13)
Sarfraz Ahmed: 4 (5)
Over 17: Morne Morkel (1-1-1-1-1-1)
Shoaib Malik: 7 (9)
Sarfraz Ahmed: 3 (3)
Over 16: Imran Tahir (1-1-5-1-1-wk-1)
Babar Azam:  86 (52)
Shoaib Malik: 4 (6)
Sarfraz Ahmed: 0 (0)
Great knock by @babarazam258 to set the tone for the final overs. Pakistan are 143 for 3 after 15 overs. #PAKvWXI #CricketKiHalalala

— PCB Official (@TheRealPCB) September 12, 2017
Babar Azam falls for 86! His highest ever T20I score 👏

Pakistan are 142/3 with 4 overs remaining.#PAKvWXI LIVE: https://t.co/xuWqhdIPOl pic.twitter.com/hel5CJlZiN

— ICC (@ICC) September 12, 2017
INSPIRATION was the Most missing part since 2009 in Pakistan cricket,these PAK vs world 11 matches wil help to inspire new generation 4 sure

— Mohammad Hafeez (@MHafeez22) September 12, 2017
Over 15: Ben Cutting (wk-1-1-1-0-0)
Babar Azam:  84 (49)
Shoaib Malik: 1 (3)
Ahmed Shehzad: 39 (34)
1st Twenty20. 14.1: WICKET! A Shehzad (39) is out, c Darren Sammy b Ben Cutting, 130/2 https://t.co/fcjMmODLC4 #PAKvWXI

— ICC Live Scores (@ICCLive) September 12, 2017
Over 14: Darren Sammy (1-1-2-1-6-2)
Babar Azam:  82 (47)
Ahmed Shehzad: 39 (33)
It's always a special moment to play cricket in Pakistan. #CricketReturns Excited to watch this World X1 v Pakistan series @TheRealPCB @ICC

— Daren Ganga (@DarenGanga) September 12, 2017
Over 13: Morné Morkel (1-2-2-4-1-1)
Babar Azam:  73 (44)
Ahmed Shehzad: 35 (30)
Over 12: Darren Sammy (4-1-1-0-1-4)
Babar Azam:  64 (40)
Ahmed Shehzad: 33 (28)
Over 11: Imran Tahir (1-1-1-1-0-6)
Babar Azam:  59 (38)
Ahmed Shehzad: 27 (24)
Over 10: Grant Elliott (4-1-1-1-1-1)
Babar Azam:  51 (34)
Ahmed Shehzad: 25 (22)
Half way through the Pakistan innings and they are 85/1, @babarazam258 with his second T20I fifty!#PAKvWXI LIVE: https://t.co/5d3Odwtr1v pic.twitter.com/HaMq8lZP6J

— ICC (@ICC) September 12, 2017
Over 9: Imran Tahir (1-1-2-1-0-1)
Babar Azam:  44 (30)
Ahmed Shehzad: 23 (20)
Over 8: Grant Elliott (1-1-1-4-1-0)
Babar Azam:  42 (27)
Ahmed Shehzad: 19 (17)
Over 7: Ben Cutting (4-4-2-1-1-1)
Babar Azam:  40 (24)
Ahmed Shehzad: 13 (14)
Over 6: Imran Tahir (1-4-0-2-1-0)
Babar Azam:  28 (19)
Ahmed Shehzad: 12 (13)
Over 5: Ben Cutting (1-1-0-2-1-1-1)
Babar Azam:  21 (15)
Ahmed Shehzad: 11 (11)
Over 4: Thisara Perera (0-1-0-4-1-4)
Babar Azam:  19 (13)
Ahmed Shehzad: 7 (7)
Over 3: Morné Morkel (1-0-2-0-0-0)
Babar Azam:  14 (10)
Ahmed Shehzad: 2 (4)
Over 2: Thisara Perera (0-0-1-4-4-0)
Babar Azam:  12(5)
Ahmed Shehzad: 1 (3)
Over 01: Morné Morkel (4-4-0-wk-4-0 )
Fakhar Zamar: 8 (4)
Babar Azam:  4(2)
Ahmed Shehzad: 0 (0)
📸 @mornemorkel65 struck first! #PAKvWXI pic.twitter.com/iztj71jOsu

— ICC (@ICC) September 12, 2017
Comments
comments