Eyewitnesses contradict Meesha Shafi's claim of harassment by Ali Zafar
Eyewitnesses and fellow artist who were present at the jamming session during which Meesha Shafi claimed she was sexually harassed by fellow singer Ali Zafar talked to ARY News and contradicted her claims.
Speaking exclusively to ARY News, eyewitnesses Baqir Abbas, Aqsa Ali and Asad maintained that they saw nothing out of ordinary during the session, in fact, Meesha Shafi was "very happy".
"I was really saddened by the fact that Meesha Shafi said that I am taking Ali Zafar's side, I am an artist who has worked with legendary musicians like Madam Noor Jahan and Nusrat Fateh Ali Khan and I am a professional who only cares about his work, I am not taking anyone's side but speaking the truth," said artist Baqir Abbas.
Baqir maintained that during the jamming session, Meesha Shafi came, hugged Ali Zafar, participated in the session, hugged Ali and left and I saw nothing extraordinary.
Another eyewitness, singer Aqsa Ali, said that the whole jamming session started and ended in a fun manner and everyone was happy.
About Meesha's allegation that she (Aqsa) works for Ali Zafar, Aqsa said that she is a freelance vocalist and sometimes Ali Zafar hires them for his concerts, but she is not his employee or in anyway indebted to him.
"As for Meesha, the way she contradicted herself (in a talk show) and then said that her message was not about the jamming session (which turned out to be a lie as Ali shared the message), everything is pretty much clear," Aqsa concluded.
Known music producer and guitarist Asad Ahmed, who was also present during the December 21 session, too said that there were a number of people participating in the jamming and it ended amicably.
"Meesha was happy and I remember that she expressed her happiness after the concert," said Asad Ahmed.
Related
He added that he knows both Ali Zafar and Meesha Shafi and doesn't believe in Meesha's allegations at least during the jamming session.
It is pertinent to note here that just yesterday Ali Zafar's lawyer Barrister Ambreen Qureshi shared a message alllegedly sent by Meesha Shafi, in a group created by organizers of the concert, in which she not only said that she had "a great time jamming" for and performing during the concert but also thanked Ali Zafar.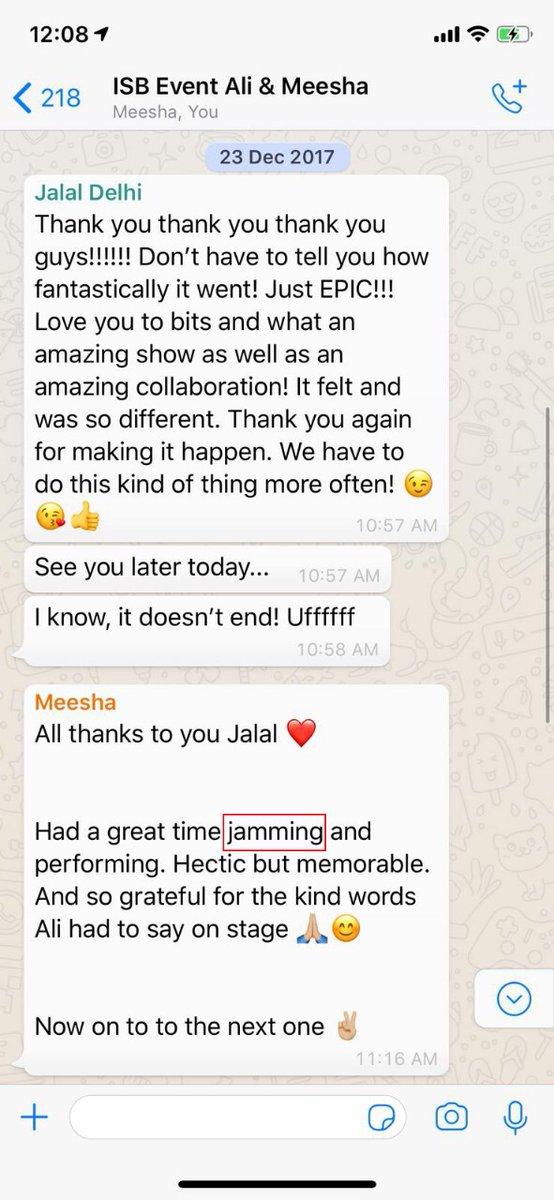 Comments
comments